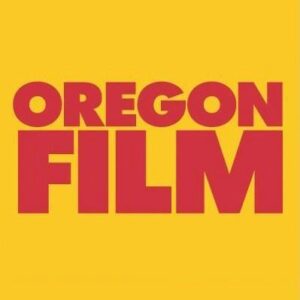 What has Oregon Film been up to? – After assuring our industry worked so well through the turbulent pandemic period with several projects of all sizes, 2022 started off with a slow down. Needless to say, Oregon is still attractive and a great place to bring your creative production. Recently we worked with the state legislature and partners like the OMPA and the IATSE and SAG-AFTRA unions to increase the film and media cash rebate percentages from 18% to 25%. In addition, the annual funding for the OPIF program increased from $14M to $20M. And, there's still funding available for your next project. On top of that, the OMPA launched a new crew and vendor Directory that can quickly give you a sense of just how much depth there is in our industry here in the state. Want to know more? Just give us a call or drop us an email.
Oregon Production – What has been happening?

The 2021-22 production season saw projects released like Netflix's "Metal Lords," the Peacock series "The Girl in the Woods," and amazing independent films like "Lorelei," "The Water Man" and Nicolas Cage in "Pig."  More recently Kelly Reichardt's new film, "Showing Up," premiered to great reviews at Cannes. We're still awaiting the release of #OregonMade features "Somebody I Used to Know" (Amazon) and "Significant Other" (Paramount) as well as the first season of the HBO series "The Rehearsal." On the animation side, we're also eagerly awaiting the completion and release of Laika's "Wildwood," along with Guillermo Del Toro's "Pinocchio" and Henry Selick's new film "Wendell & Wild." Hinge Digital continued its animation work on the new series of "Toonami" and "What We Do in the Shadows" and won an ADDY for its "Keep Portland Small" Alpenrose commercial campaigns.
Locally, we saw a great group of projects start to find their audiences – "Buffalo Soldiers Fighting on Two Fronts," "The College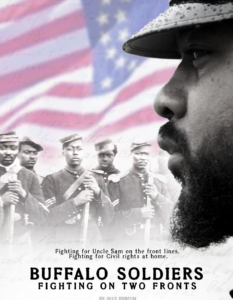 Girl," "Under the Knife," "Family First," "The Berlin Bride" and "Soldier" – to just name a few. Feature films like the Eugene-produced "Maxie," the 2020 Outdoor Adventure Film Grant winner "Any Oregon Sunday" and the 2021 Outdoor Adventure Film Grant winner "You Go Girl!" that premiered at Sundance helped to celebrate the creative energy of our state.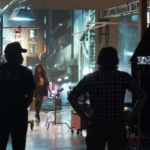 Interactive & VR: Oregon-based interactive companies, such as Rose City Games, Soma Games, Fullbright, and Pipeworks continue to create games and experience on an international level, while Refuge VFX contributed work to high-profile projects like "For All Mankind," "Cowboy Bebop" and "Underground Railroad." Additionally, both Soma Games and Picture This created work within the quickly emerging field of Virtual Production and in-camera FVX.
How does the Oregon Film Office help grow our production economy?
Projects – All told, we worked with over 50 different projects and companies in the 2021-22 fiscal year. This work included;
budget reviews
rebate estimation
contracting
connecting them to local crews, services, vendors, and locations
That doesn't include the numerous location inquiries and commercial shoots that we get every week. We work with producers, production companies, and indie filmmakers alike creating location packages and breaking down budgets and schedules to show each of them the advantages of making Oregon their base of work.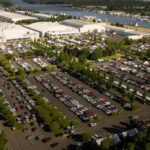 How are we helping grow Oregon's production services? – One of the larger projects we helped shape over the past year was an exploration of repurposing the Portland Expo Center into a Creative Campus, including sound stages. This process entailed working with an outside consultant to engage with the local creative community not only to gauge the need for such a campus but also to focus on the stakeholder communities that are historically directly connected to the Expo site. The result is a feasibility study and the development of an idea we're calling Storyteller Studios – a place where the cultural and economic significance of Storytelling can be celebrated. Metro has only recently opened a process called a Request for Expressions of Interest (RFEI) that will remain open for submissions throughout the summer. After that, a review period for proposals will begin and run through the beginning of 2023.
Bringing awareness of Oregon's film contributions and history –  We resumed our screening series of #OregonMade Films at the Hollywood Theatre. This included classics like "Point Break," "Zero Effect," "Bandits," "Twilight," "The Ring" & "The Ring Two." This ongoing series helps to further emphasize the importance of filmmaking to the history and culture of Oregon as a whole.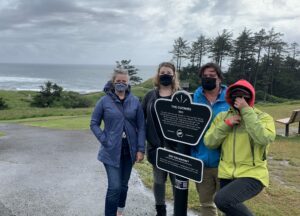 This connection of film and media to Oregon's cultural identity is also something that is celebrated through the Oregon Film Trail. There are now over 40 signs on the Trail stretching across all parts of the state. Most recently signs have gone up in Canby, Baker County, St. Helen's, and Eugene. Through a unique partnership with SetJetters, we have helped explore and develop film tourism, have supported the celebrations of Goonies Day and Stand By Me Day in Astoria and Brownsville, as well as created programs such as the Tri-City scavenger hunt to raise our special film history awareness. In partnership with SetJetters, we are gathering data that illustrates the importance of "film tourism" on local economies and in Oregon overall. In fact, Travel Oregon did a great overall article about this recently called "Film Lover's Guide to Summer in Oregon."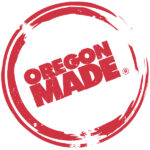 Through the work of our separately designated 501(c)(3) non-profit the #OregonMade Creative Foundation, we have managed to continue our work in project granting, filmmaker support, workforce development, and the identification of the deep and robust filmmaking history throughout our state. You can find a list of current & past granting and workforce development programs awarded through the OMCF by going to the #OregonMade website. 
What does our other programming bring to the state and the local workforce? – Together these OMCF programs have helped to bring over $230,000 to projects and filmmakers working here in the state; 75% of that funding has gone to artists and creators from historically underrepresented and marginalized communities.
These have included, in partnership with Travel Oregon;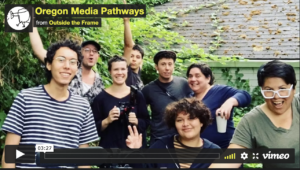 In addition, the Creative Foundation continued its partnership with local producers, IATSE, Outside the Frame, Portland Film Office, and the Oregon Media Production Association to build on a series of Opportunity Employment job placement programs, Oregon Media Pathways, on network television series and feature films. This has resulted in several more paid job placements on studio projects like "Significant Other" and "Somebody I Used to Know" as well as locally produced projects like "Mother of Color," "Half Sisters" and "New Life." To date, more than 30 different people have found opportunities on 40 different paid placements through the Pathways program.
What have we been doing in State Government? – In the 2022 short session, we also passed a bill that created the Creative Opportunity Program. Through this program, we will expand many of our existing programs (e.g. Pathways Placements, Production Assistant Trainings, filmmaker and region production support, and project grants) and thereby increase items like paid placements and job training, while also expanding our partnerships and programming to offer between 15 and 20 different grants, placements, project support programs, and other industry-focused support programs on an annual basis.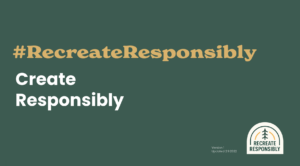 Initiatives we have supported – Outside of the office, we participated in the development and direction setting for the #CreateResponsibly national campaign. This is a campaign that is part of the larger #RecreateResponsibly campaign that looks to build social and environmental responsibility and equity across platforms and on all types of productions. It is a partnership with nationwide organizations like BLM, USFS, Fish and Wildlife Service, NOAA, and National Parks.
What festivals and celebrations have we supported? – We helped to support and attend many of the state's film and media festivals. This includes the Cinema Unbound Awards, BendFilm, Eastern Oregon Film Festival, McMinnville Short Film Festival, Klamath Film, and Ashland Independent Film Festival, amongst others. We believe supporting and building a strong local community of makers and creators creates a stronger statewide workforce.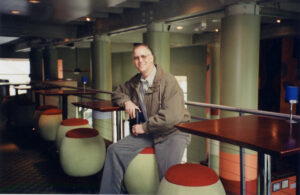 We said goodbye to longtime Project Manager Bob Schmaling this past year and we said hello to Dallas Brown who took over for Bob in April. We are grateful to Bob for his many years of work and we are excited to have a new, valued team member in Dallas.
Oregon Film's office is in the Portland Metro area which rests on traditional village sites of the Multnomah, Wasco, Cowlitz, Kathlamet, Clackamas, Bands of Chinook, Tualatin, Kalapuya, Molalla, and many other tribes who made their homes along the Columbia River creating communities and summer encampments to harvest and use the plentiful natural resources of the area.  We take this opportunity to thank the original caretakers of this land.
Do we want to hear from you? – Yes! We'd like to hear from you about any ideas you may have that might help shape and grow our industry. Please feel free to reach out. 
Thank you.