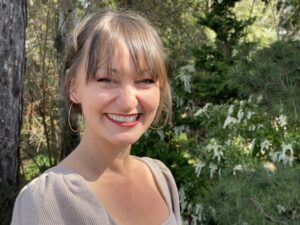 Following on from Bob Schmaling's retirement this month, Oregon Film is pleased to welcome a new member of our team, Dallas Brown, Project Manager. After an extensive search done in partnership with Workplace Change where we met so many wonderful and talented people, Dallas was confirmed as our new Project Manager last week and we're excited to have her talent and energy added to our work.
Dallas is a native Oregonian with experience as a Location Scout, Assistant Location Manager, and Location Manager for various feature films, series, and commercials produced in Oregon. She has also done freelance work as a director, director of photography, assistant camera, producer, and editor on commercials, documentaries, narratives, music videos, and live events. Prior to breaking into the film and television industry, she is proud to have represented the United States as a Goodwill Ambassador through music and workshops around the world in female empowerment, diversity inclusion, and anti-bullying. As a graduate of the Portland Community College Video Production program, she is excited to help future students and graduates of Oregon programs succeed in the industry. She is especially excited to find creative ways to help bring more diversity and inclusion to the industry for historically underrepresented groups.
"We're genuinely excited to be welcoming Dallas into our office," said Executive Director Tim Williams, "and we look forward to working with her on so many fronts. We know our work and our community will benefit from the new opportunities and energy Dallas brings to our team."
"With my background working in locations," says Brown, "I know how much it means to our creative professionals to have productions based in Oregon. While I'm excited to help larger productions produce their work in Oregon, I'm also just as energized to lend a hand to the smaller productions that provide the heartbeat of this state's production community."
Dallas will officially start at Oregon Film on April 18.