Maxie, an award-winning independent film shot entirely on location in Eugene and Springfield will premiere on April 29, 2022, at the Broadway Metro in Downtown Eugene.
The film was shot in 2020, during the height of the pandemic, and follows two homeless adolescents over an eventful weekend, as they attempt to get clean and begin anew.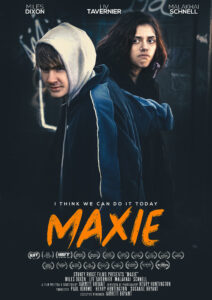 The cast and crew are all local talents from Eugene, Springfield, Roseburg, Florence, and a couple of transplants from California.
Maxie was written and directed by Jarrett Bryant, an ex-television writer, and transplant from Los Angeles. Jarrett has worked on two television shows: New York Undercover and Gvs.E. He also optioned several screenplays and one is currently in development with a production company in Hollywood.
Henry Huntington, the Director of Photography, and a local cinematographer from Florence, OR, who studied film at Lane Community College, was the gifted eye behind the camera.
Our lead actors:
Liv Tavernier, former Roseburg High School theater student and graduate, plays the role of Sid. Liv was awarded the Best Actress Award for her performance in Sweden, Canada, and Las Vegas.
Miles Dixon, former Churchill High School graduate, plays Maxie in the title role, is currently an undergrad at Hampshire College in Amherst, Massachusetts. Miles was awarded the Best Actor Award for his performance in Sweden and Canada.
Malakhai Schnell, former South Eugene High School graduate, studied acting at LCC, plays Nathan in a supporting role.
Awards:
Maxie has been awarded eight Best Feature Film Awards in various film festivals in Klamath Falls, Washington, Hollywood, Canada, Sweden, Nevada, and Los Angeles. In addition, one First Time Director Award, one Best Screenplay Award and a semi-finalist award for cinematography in 2021.
Maxie trailer:     https://youtu.be/pjzoTyNlR4g
Facebook Page:  https://www.facebook.com/maxie2021
Film Review:  https://www.indiefilmcritics.com/post/maxie-is-an-eye-popping-triumph?fbclid=IwAR1dcNuBYCZ-IcNElwgjDQXoPzUgKH10QEb8XLu9QOIyJQRlIbnpFLCk0a8
Theatrical Release Info: https://www.broadwaymetro.com/films/PiYoKWJfHewhe6Qu2dUH?fbclid=IwAR0Z_oBsNwdq14D2J1uD-ns0KvmgFAbAk19hHO9SRi9FW3vU2LYAzmh1alI
Please direct additional questions or requests to view a private screener to: Jarrett Bryant 541-285-7626 or [email protected]