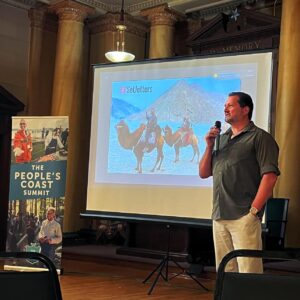 This year the People's Coast Summit 2023, took place in Astoria, Oregon. Hosted by the Oregon Coast Visitors Association, Erik Nachtrieb (CEO, SetJetters) was invited to present a keynote address on Film Tourism, and how travel organizations can embrace this growing tourism sector. The Oregon Film Trail is partnered with SetJetters to raise Oregon's filmed history profile, both within our Oregon communities and beyond the state boundaries.
Below are some key takeaways from Nachtrieb's presentation:
Film tourism is a $66B dollar industry and is described by Expedia Group as the new direction of travel.
Continue reading...

"Film Tourism On The Agenda At The People's Coast Summit, Astoria"