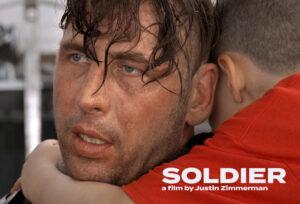 SOLDIER focuses on Daniel Krug: a heroic firefighter, father of five, SWAT trainer, amateur MMA champion and armored combat enthusiast. Daniel is also a former military sniper, with combat, security, rescue and recovery experience in the middle east and Tibet. And in the past 9 years, he's lost 11 of his close friends to suicide… and almost lost himself to PTSD.
After 10 months of filming, the official SOLDIER trailer and GoFundMe campaign launched this week. And we'd love for you to be part of the team. Without further ado, please visit…
From COVID conscious sets to an array of Portland post processes, the trailer embodies the hard work of a number of creators over this past year. And we're not quite done with production yet! At least two more shoots ahead and plenty of editing left to accomplish, what with the 40+ hours of 4K footage and the massive amounts of archival material we've gathered.
None of which would be possible without kind and generous partners across the board. In these – let's call them unique – times, hats off to anyone capable of creating anything, period. For our part, we're forging ahead with something we believe in, and hopefully will affect real change.
Enjoy tons of behind-the-scenes pictures here: www.facebook.com/SOLDIERdocumentary
And please share the SOLDIER documentary campaign with your communities, stay safe… and thank you in advance for your help!