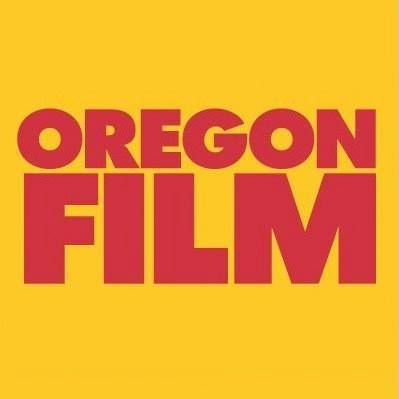 We are finally seeing the light at the end of a very long tunnel for many of us. This doesn't mean the work is done or there won't be challenges and changes going forward, but it does mean that we are starting to see more opportunity and more creativity in all areas of our industry here in Oregon.
We've highlighted several stories about our community's resilience through "The New Normal" series from local companies like Talented Animals, Ravenous Studios, Limbo Films, The Art of Make-up School, PDXpendables, Cast Iron Studios, Koerner Camera and Picture This. KGW8 also did a story on this.
We've also been excited to see that our friends at Picture This have brought the new tool of "Virtual Production" to Oregon. As you might already know this is a production method that was used to great effect in series like Disney's "The Mandalorian."
And we've seen production return to the state.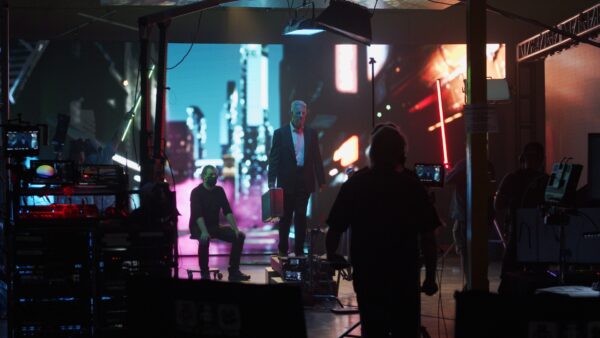 The first season of "Chad" was interrupted by the pandemic shutdown, but it finished its shoot late last year and come out this Spring. The third season of "Shrill" also made the choice to shoot through the pandemic and found its way to Hulu in May. David Oyelowo's magical feature film "The Water Man" premiered at Ashland Independent Film Festival in April and came out in May. The second season of CryptTV's "The Birch" took in many locations in Columbia County in 2020 and then was released in April of this year. And, finally, "Top Chef" spread the word that Oregon is open for business and our food scene is second to none. "Top Chef" based itself in Portland but it highlighted locations from the Gorge to the Coast and from Salem to Cascade Locks.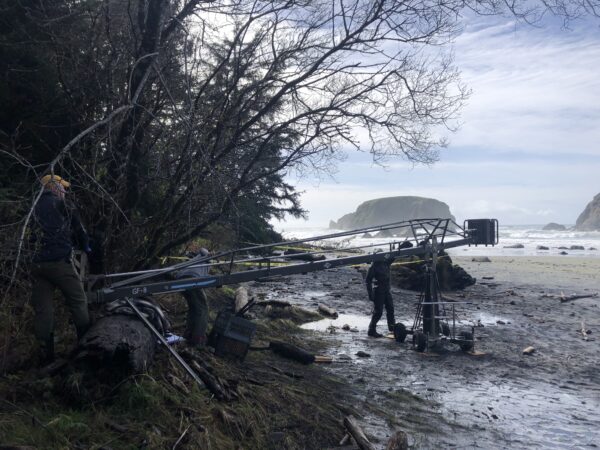 In addition, other projects found their way into production during the height of the pandemic including the Netflix feature film "Metal Lords" and a large feature film from Sony that found its main locations in Curry and Coos counties and spent three weeks working out of Gold Beach.
There were also several locally produced films that have found audiences during this unusual time for distribution. Projects like "A Kaddish for Bernie Madoff," "Who's on Top?," "See Me" (short), "La Tienda" (short), "Lorelei," "Kin" (short), "Hunger Ward" (Oscar-nominated short doc), "Jean" (short), "Love in Dangerous Times," and "Barbie's Kenny" were all screened at the Portland International Film Festival at the Northwest Film Center earlier this year. Other locally producer features like "Young Hearts," "Contactee," "Sophie Jones" and "Hello From Nowhere" have found or will find their way out to audiences this year while "Claydream" the documentary about Will Vinton and his massive legacy in our animation community will premiere at Tribeca FF.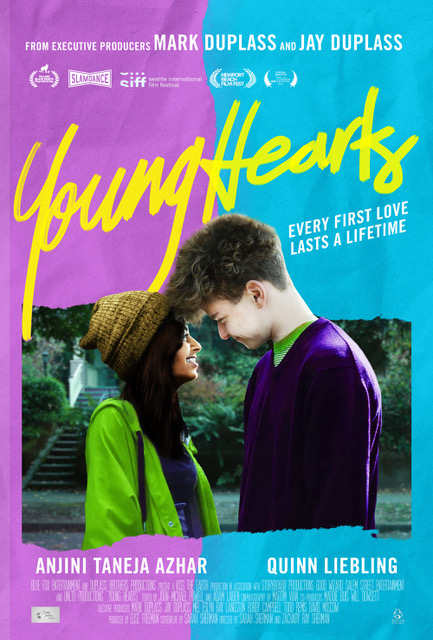 On the awards side – Skye Fitzgerald's third installment of his amazing trilogy of short docs, "Hunger Ward," was nominated for an Academy Award. The second season of "Trinkets" was nominated for seven Emmy awards, all of which tracked directly back to the work of local #OregonMade crews.
Our animation community continues to lead the world in the stop-motion art form. Three feature films are in production here in Oregon utilizing this unique storytelling medium while a fourth feature, done in a more "traditional" manner is also in production. These include work from Laika, Deep Sky, Henry Selick, Jordan Peele, and Keegan Michael Key, and Guillermo del Toro.
The Oregon interactive community created amazing titles like "Rival Peak," "Cat Lady," "Floppy Knights," "Garden Story," "Madden NFL," "Super Fight," "Soccerdie" and "Redwall," from local companies like Rose City Games, Pipeworks in Eugene and Soma Games in Newberg.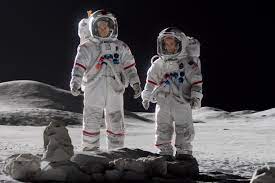 And, not to be outdone, our VFX community also contributed to a growing number of projects. These include "Legion" for Netflix and "For All Mankind" for AppleTV.
This has been an unusual year on so many fronts, but our industry rebounded in some aspects and suffered in others. The tracked economic spending in the third and fourth quarter of 2019 was the same as the tracked economic spending in quarters three and four in 2020, but small indie productions found it hard to navigate the costs and protocols that were necessary in a post COVID world. Our office tried to help by providing free PPE to smaller productions and guidance on how to navigate the Production Protocols.
Currently, the 2019-2021 biennium is tracking $150M of in-state spending that was directly associated with projects coming through our incentive programs. This represents more than 60 different projects utilizing locations, crews, and vendors in many areas of the state – like Hood River, the North Coast, Gold Beach & Curry County, Washington & Clackamas Counties, Bend, and Sandy.
Sadly, our operating budget was reduced at the onset of the pandemic and we came to rely on many partners across the state. This includes the OMPA, Lane County Filmmakers, Travel Oregon, Outside the Frame, IATSE Local 488, SAG-AFTRA, The Central Oregon Film Office, Klamath Film, BendFilm (who continued to program films in the alley outside their Tin Pan Theater), Eastern Oregon Film festival (who held a unique Filmmakers Residency program in May of 2021), Northwest Film Center (who produced the brilliant Cinema Unbound Awards virtually this year), Ashland Independent Film Festival and the Oregon Film Museum. We are grateful for their leadership and partnership.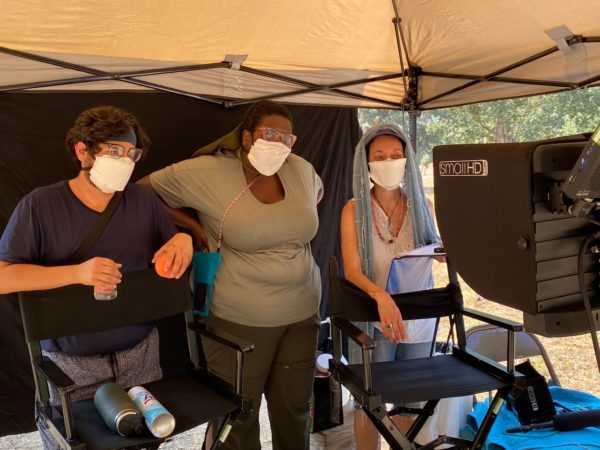 Through the work of our separately designated 501(c)(3) non-profit the #OregonMade Creative Foundation we have managed to continue our work in project granting, filmmaker support, workforce development, and the identification of the deep and robust filmmaking history throughout our state. You can find a list of current & past granting and workforce development programs awarded through the OMCF by going to the #OregonMade website. Together these programs have helped to bring close to $100,000 to projects and filmmakers working here in the state, even though the pandemic.
Utilizing unique partnerships with places like Travel Oregon, Willamette Writers, Soma Games, and RACC, OMCF has continued to finance and promote several specially designed programs awarding grants such as two more Outdoor Diversity Film Grants and three Tell Your Story grants not connected to specific projects but rather simply supporting individual filmmakers. In addition, OMCF also presented the Park Bench Story project that brought together stories and ruminations from the pandemic and a dedication to Soma's John Bergquist, who died before the project he helped to spearhead was launched.
In addition, the Creative Foundation continued its partnership with local producers, IATSE, Outside the Frame, Portland Film Office, and the Oregon Media Production Association to build on a series of Opportunity Employment job placement programs, Oregon Media Pathways, on network television series and feature films. This has resulted in several more paid job placements on projects like the second season of "The Birch," the feature film "Metal Lords" and upcoming productions like the first season of "The Girl in the Woods" for CryptTV and Peacock, the pilot episode for "Kill the Orange Face Bear" and Kelly Reichardt's new project "Showing Up."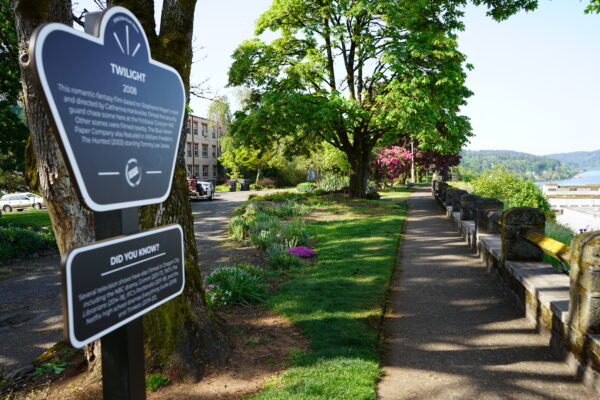 To help further recognize Oregon's film history and connect that back to the deep and rich cultural history of our state, we have continued to roll out the historic Oregon Film Trail. This project launched at PDX airport in 2018 but further signs have now found their new homes in places like Cottage Grove, Klamath Falls, Oregon City, Toledo, Joseph, Burns, Ashland, Silver Falls State Park, Smith Rick and St. Helens, Coming soon will be a new "loop" that you can follow in Eastern Oregon and on the Oregon Coast. Working with the OMCF, Travel Oregon, the Willamette Valley Visitor's Association amongst many others we have now linked all of these signs and locations together through a specially designed online map adding more information to  each locations so that a film-location specific itinerary can be easily followed from one side of the state to the other.
On the celebration side of things, Klamath Falls dedicated a "Phoenix, Oregon Day" upon the unveiling of an Oregon Film Trail sign in the location where the film shot and Portland declared "Shrill Day" earlier this year in reckognition of the contribution that the series has made to the city.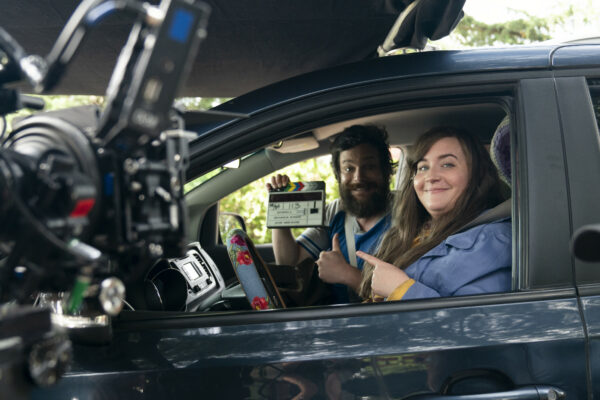 The Oregon Film office is in the Portland Metro area which rests on traditional village sites of the Multnomah, Wasco, Cowlitz, Kathlamet, Clackamas, Bands of Chinook, Tualatin, Kalapuya, Molalla, and many other tribes who made their homes along the Columbia River creating communities and summer encampments to harvest and use the plentiful natural resources of the area.  We take this opportunity to thank the original caretakers of this land.
We'd like to hear from you about other ideas. Please feel free to reach out. 
Thank you.