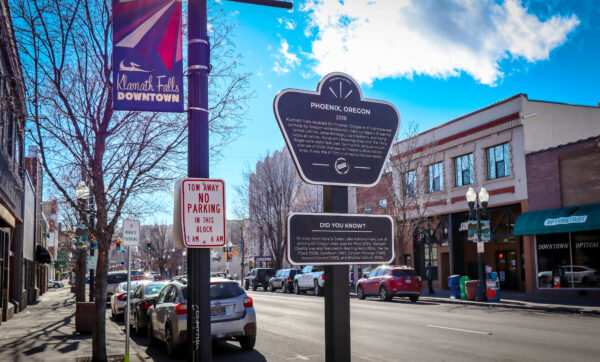 Summary: Historic marker on the Oregon Film Trail will be unveiled in downtown Klamath Falls in recognition of the film "Phoenix, Oregon" (shot in Klamath Falls in 2018) with a day-long celebration on Saturday, Feb. 27.
Event Details:
WHAT: Oregon Film Trail marker unveiling and "Phoenix, Oregon" film screening
WHERE: The Daily Bagel (1 p.m.), 636 Main St., Klamath Falls. Ross Ragland Theater (2 p.m.), 218 N. 7th St.
WHEN: Saturday, Feb. 27, 1 p.m. Available in-person and online livestream
COST: $10 tickets for virtual livestream or theater seat (limited to first 100 people)
KLAMATH FALLS, Ore. – An historic marker will be formally unveiled as part of a full slate of activities in celebration of the film "Phoenix, Oregon" on Saturday, Feb. 27 in downtown Klamath Falls with a simultaneous livestream.
Multiple events are planned for the official addition of the latest historic marker on the Oregon Film Trail – a network of recognizable signage placed in many iconic filming locations across the state, stitching together film history, communities, and celebrating Oregon's contribution to filmmaking since 1904.
The sign to be placed in Klamath Falls is the 33rd historic marker designated in the State of Oregon, but only the third in Southern Oregon – two were placed in Ashland in 2020. Additionally, the program has created a large exhibit and mural at the Portland International Airport honoring Oregon's film legacy.
The Oregon Film Trail marker identifies the making of the film "Phoenix, Oregon" as well as other notable films at least partially made in Klamath County. The markers serve as an economic driver and recognition of cultural heritage and are actively promoted as tourist stops for film fans. The Oregon Film Trail markers are intended to strengthen the correlation between the film/TV industry and Oregon communities for its economic and cultural impact.
RISE LIKE A PHOENIX
A small, independent production by Ashland-based Joma Films, "Phoenix, Oregon" was filmed in Klamath Falls in 2018 after the director met several residents interested in producing a film while attending the 2016 Klamath Independent Film Festival. The film included many local Klamath Falls citizens serving as film crew and extras. It was shot on location at multiple local businesses including The Daily Bagel, Italianna's Ristorante, Silver Tip Mobile Home Park, Hanscam's Bowling Alley, Rodeo's Pizzeria, and a warehouse owned by Fireserve that was repurposed as a soundstage.
Making its world premiere in 2019, including a screening at the 2019 Klamath Independent Film Festival, Joma Films took the film on the road, traveling nationwide in a RV to showcase "Phoenix, Oregon" at festivals and special event screenings. This effort eventually led to a national theatrical distribution deal for its release in March 2020.
In an odd twist of timing, the week of its release aligned with a national shutdown of theaters due to the spreading COVID-19 pandemic, however a simultaneous online video-on-demand release of the film resulted in "Phoenix, Oregon" becoming the #1 film in America in Domestic Box Office. As a result of the theater shutdown, the film also holds the somewhat dubious honor of being the all-time lowest grossing #1 move in U.S. Domestic Box Office in history
The film stars James Le Gros, Jesse Borrego, Lisa Edelstein, Diedrich Bader, Kevin Corrigan, Reynaldo Gallegos and Luis Rodriguez. The film was directed by Gary Lundgren. It follows two friends who quit their jobs following a mid-life crisis to revive a shuttered bowling alley and sell specialty pizzas.
The Joma Films team was recently honored at the OMPA Awards in January in recognition of their 2020 charity work raising thousands of dollars through virtual screenings of "Phoenix, Oregon" to support struggling Oregon restaurants, theaters, and wildfire victims.
EARNING ITS MARK
In late 2020 Klamath Film, a 501c3 nonprofit based in Klamath Falls, began an effort to have an Oregon Film Trail marker designated in honor of "Phoenix, Oregon" – the 11th overall feature film to be at least partially filmed in Klamath County. The Oregon Film Trail – conceived and organized by the Oregon Made Creative Foundation – has invited numerous Oregon communities to partner on the installation of Trail markers in all seven regions of the state with a current total of 33 signs (some waiting to be installed).
Meeting directly with multiple community organizations throughout the fall, Klamath Film rallied letters of support and financial donations to cover the cost of the marker's construction and confirm sufficient community support for the film's recognition. Pledged support in financial donations or letters was received from Klamath Falls City Council, Klamath County Commissioners, Soroptimist International of Klamath, Klamath Falls Downtown Association (KFDA), Klamath Film and Discover Klamath, along with private citizen donations.
Based on the fundraising campaign and community support, Klamath Falls was approved for the newest Oregon Film Trail marker in December 2020 by Oregon Film and the OregonMade Creative Foundation.
"'Phoenix, Oregon' is a great example of a locally produced film, that has national notoriety, that showcases our talent," said Tim Williams, executive director of Klamath Film. "It is the fourth Southern Oregon produced feature film from Ashland husband-and-wife filmmaking team Annie and Gary Lundgren. Although its title helps celebrate the small town of Phoenix, Ore., the choice of shooting location brought spending, jobs and visibility to Klamath Falls, and it continues Oregon's long history of storytelling (through film). All of these pieces make it a valuable film to Oregon and the perfect choice for recognition on the Film Trail."
PHOENIX CELEBRATION
To honor the film and celebrate the addition of the marker on the Oregon Film Trail, several community events are being planned for Saturday, Feb. 27. Activities will commence at 1 p.m. with speeches by several dignitaries before the formal unveiling of the historic marker at its permanent location at the corner of 7th and Main Street in downtown Klamath Falls outside of the entrance to The Daily Bagel – where many of the film's scenes were shot. The Daily Bagel (636 Main St.) will stay open late that afternoon to provide food and drinks for those present. Masks will be required and participants are strongly encouraged to socially distance themselves. The event will also be livestreamed for those unable to attend in person.
One block away from The Daily Bagel at the Ross Ragland Theater (218 N. 7th St.) starting at 2 p.m., there will be a screening of the film "Phoenix, Oregon." This socially distanced film event will be open to only 100 people inside the 785-capacity theater so as to maintain proper social distancing protocols. All attendees will be required to wear masks, and contact tracing and temperature checks will be conducted at the door in accordance with COVID-19 safety protocols. Anyone showing symptoms of illness or a high temperature will not be admitted.
The film and on-stage activities at the Ross Ragland Theater will also be simultaneously livestreamed for a virtual audience. Following the completion of the film, at 4 p.m. there will be a virtual Q&A hosted at the Ross Ragland Theater with several cast members.
Tickets for the film screening are $10 and will provide both a virtual ticket to watch the event livestreams via Eventive and access to the Ross Ragland Theater for the in-person screening on a first-come-first-serve basis for the first 100 participants. Tickets can be purchased at www.rrtheater.org or www.klamathfilm.org.