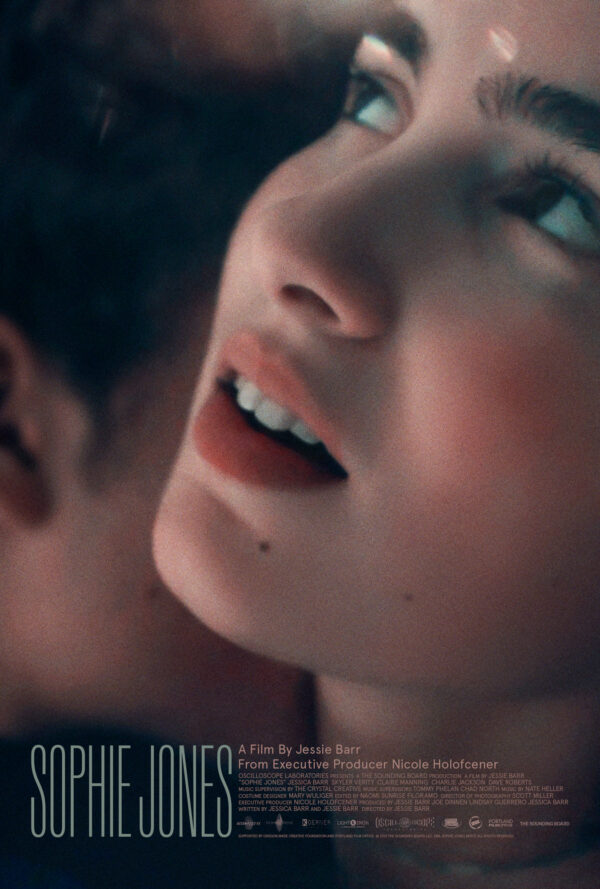 The feature film, SOPHIE JONES, directed by Jessie Barr, is having its release on March 2nd! We shot on location in 2018 with an incredible local crew and local talent. Portland made this movie possible and we are so grateful to everyone involved in bringing the film to life. To watch the film, visit sophiejones.oscilloscope.net
On Monday, March 8th at 7PT The Hollywood Theater will show the film virtually and host a QA with the director, producers, and cast, moderated by director Megan Griffiths!
"INDIE COMING-OF-AGE AT ITS BEST" – THE PLAYLIST
"'EUPHORIA' MEETS 'LADYBIRD'." – SCREEN QUEENS
AN "OUTSTANDING FIRST FEATURE." "JESSIE BARR'S DEBUT FEATURE ANNOUNCES THE WRITER/DIRECTOR AS A TALENT TO WATCH." – THE SPOOL
"ONE OF THE MOST AUTHENTIC EXPLORATIONS OF GRIEF ON FILM." – NEXT BEST PICTURE
In this debut feature by filmmaker Jessie Barr, from executive producer Nicole Holofcener, 16-year-old Sophie Jones grapples with the recent death of her mother. Physical intimacy with another person becomes the only way for Sophie to feel anything. Eroticism becomes the antidote to her mother's death. She tries to keep her relationships strictly for her own empowerment and as a means of distraction. But what happens when Sophie finds that she does want more than physical intimacy but she's terrified of being vulnerable and receiving love or pleasure? What if none of Sophie's relationships with the boys in her life is the answer but they are all part of her journey back to healing herself? These are just some of the questions that the film SOPHIE JONES explores with humor, heart, and authenticity. Ultimately Sophie learns that sexual intimacy is a temporary salve but love is lasting medicine and her mother's death is the material of her life. This coming-of-age film is inspired by true experiences of grief, girlhood, and growing up. Written by cousins with the same name – director/co-writer Jessie Barr and her cousin co-writer/star Jessica Barr both lost a parent to cancer when they were 16-years-old and collaborated on the script together. The story is inspired by Jessica Barr's experience of grieving the loss of her mother. Director/co-writer Jessie Barr immersed herself in the lives of local Portland teenagers and worked closely with them while drawing upon her own experience of loss, resulting in the film's authenticity, which combines poetic realism with an honest portrayal of grief and girlhood. SOPHIE JONES precisely captures the experience of a young woman discovering her sexual agency and sense of self within the context of grief. The film features a score by Nate Heller (Composer for A Beautiful Day in the Neighborhood, Can You Ever Forgive Me and Diary of a Teenage Girl) and was filmed on location in Portland, Oregon.
Directed by / Jessie Barr
Starring / Jessica Barr, Skyler Verity, Claire Manning, Charlie Jackson, Dave Roberts, Tristan Decker, Sam Kamerman, Elle Layne, Chase Offerle, Jonah Kersey, Katie Prentiss, Sharae Foxie, Hannah Sapitan, Natalie Shershow.
Director of photography / Scott Miller
Edited by / Naomi Sunrise Filoramo
Executive producer / Nicole Holofcener
Produced by / Lindsay Guerrero, Joe Dinnen, Jessie Barr and Jessica Barr
Written by / Jessica Barr and Jessie Barr (Cousins with the same name)
Music by / Nate Heller
Music supervision by / The Crystal Creative
OFFICIAL SELECTION
Festival du Cinéma Américain de Deauville 2020 (Deauville, FR) / World Premiere In Competition
Mar del Plata International Film Festival 2020 (Buenos Aires, AR) / In Competition
Festival de Cinéma de la ville de Québec 2020 (Quebec, CA) / Official Selection
Heartland Film Festival 2020 (Indianapolis, IN) / Official Selection
Montana Film Festival 2020 (Missoula, MT) / Official Selection
DISTRIBUTOR – OSCILLOSCOPE LABORATORIES
SALES REP (NA) – UTA
SALES REPRESENTATIVE (INT) – VANISHING ANGLE