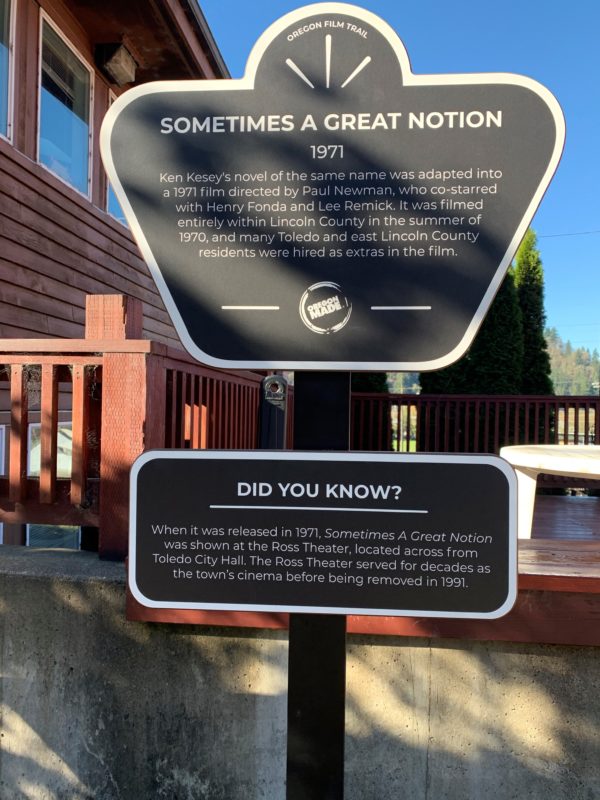 Oregon Film Trail Dedicates A New Sign In Toledo, Oregon!
The latest sign on the Oregon Film Trail is dedicated today on Main Street across from City Hall in downtown Toledo. The sign celebrates the town's starring role in "Sometimes A Great Notion."
The recently installed sign marks and celebrates locations in and around Toledo in the filming of "Sometimes A Great Notion" (1971), a motion picture based on the second novel by Oregon author Ken Kesey and published in 1964. The film was directed by Paul Newman, who also co-starred with Henry Fonda and Lee Remick.
The story revolves around the Stamper family that strives to keep their small logging business going despite opposition from the local union. Many local residents were used as extras in the film and those still living in the area fondly recall the small parts they played. Many residents were thrilled to spot the film's stars on the sidewalk and in local shops as the movie was being made.
The Toledo History Center, 208 South Main Street, features a framed original poster from "Sometimes A Great Notion" that was donated by Bud Shoemake, a longtime local resident who serves as general manager of the Port of Toledo. The sign marks the spot across from Toledo City Hall where the Ross Theater screened the film upon its release (the theater was removed in 1991).
"Sometimes A Great Notion" also filmed in Kernville, Newport and the Columbia River Gorge. An Oregon Film Trail sign can be found at Gleneden State Beach, close to the Kernville location.
Kesey also wrote, "One Flew Over the Cuckoo's Nest" (1962) that was adapted into a 1975 film that won multiple Academy Awards. (Signs dedicated to this film can be visited in Salem and Depoe Bay.)
The sign is the twenty-first one for the Oregon Film Trail and is a collaborative partnership between the Oregon Governor's Office of Film & Television (a/k/a Oregon Film) and the Oregon Made Creative Foundation, the Toledo Chamber of Commerce and the City of Toledo. It was paid for in part by a grant from Travel Oregon and by OCVA(Oregon Coast Visitor's Association) and the Toledo Downtown Association.The Oregon Film Trail was created by Oregon Film, in partnership with the Oregon Made Creative Foundation and Astoria Warrenton Chamber of Commerce. It features signage located at strategic filming locations around the state. The trail aims to strengthen the correlation between the film/television industry, economic development, and tourism as well as celebrate unique Oregon locations that are iconic in their own right.
"There aren't many films that showcase and speak to the Oregon Spirit as 'Sometimes a Great Notion', said Tim Williams, executive director of Oregon Film. "Being able to honor and celebrate that project's direct connection to a quintessential Oregon town like Toledo gives us all great pride. We wish to thank the city and its people for helping us achieve this recognition."
Kathy Crane, executive director of the Toledo Chamber of Commerce, has worked in partnership with Oregon Film and the Oregon Made Creative Foundation to bring this sign to Toledo " as a means of encouraging tourists, as well as locals, to visit our town to see one of the filming locations of this movie and to take a walk down our historic Main Street. It's like a walk through history with storefronts and building facades spanning every generation and genre of architectural style."
Visitors and fans of other movies such as "Wild," "The Goonies," "Point Break," "Kindergarten Cop," "Twilight," "Free Willy," "One Flew Over The Cuckoo's Nest," "Stand By Me," "City Girl," "The General" and "Short Circuit" among many others, have been coming to Oregon since these films were first released. Some of these Trail signs can be seen in Astoria, Gleneden Beach, Athena, Ashland, Depoe Bay, Silver Falls State Park, Ecola State Beach, Hammond Marina/Warrenton, Brownsville and Salem among others. For a complete list visit, the Oregon Film Trail map.
FaceBook: @OregonFilmTrail, @oregonfilm @cityoftoledooregon @OregonFilmTrail @TravelOregon
Instagram: @oregonmadecf @oregonfilmtrail @traveloregon
Twitter: @oregonfilm @TravelOregon
#OregonFilmTrail #OregonMade