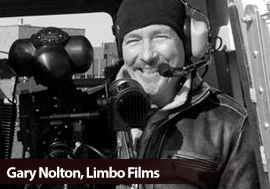 In our series of blog posts – the "New Normal" – we are looking at what creative options have been put in place to offset the disruption that Covid-19 has caused for production businesses here in Oregon.  This month we caught up with Gary Nolton, Owner/Director at Limbo Films.

Oregon Film (OF): Assuming the Covid-19 pandemic has disrupted your business, like so many others, what aspect would you say has been the most surprising?
Limbo Films (LF): The surprising thing to me is that even though our industry reacted swiftly to design and distribute Protocols for safe, responsible sets production that has not seemed to relax client fears, and consequently Production is still far slower than normal.
OF: What are the main modifications you have had to make to accommodate this new normal?
LF: All safe practices can easily be implemented, after all, we are Production! By that I mean, we were already a very adaptable, flexible, and fast-moving industry. The challenge is getting clients to understand that 2 things are critical to the success of shoots more now than ever; time & money. To accommodate things like rapid testing and reducing points of contact, etc., we need more of both, not the same and certainly not less!
OF: Are there any surprising areas of growth in your business since the pandemic started?
LF: No, not that I'm aware of. The services that have sprung up as a reaction to COVID-19 seem logical to me.
OF: Have you had to implement new training for your staff?
LF: Yes, but our standards and Protocols aren't essentially any different than what other Production Companies are utilizing so the crew members we hire are mostly already educated to this.
OF: If there has been any impact on staff morale, how have you successfully been able to mitigate this?
LF: Again, since a degree of uncertainty and constant change are inherent in the business, I think morale is mostly unchanged.
OF: What are you most proud of doing well during this challenging time?
LF: Adapting, surviving, still staying connected to all our crew and client friends. We are all certainly in this together.
Read more about Gary Nolton
Contact Limbo Films at: 1969 S.E. Ladd Ave. Portland, Oregon 97214   503.887.0893      limbofilms.com