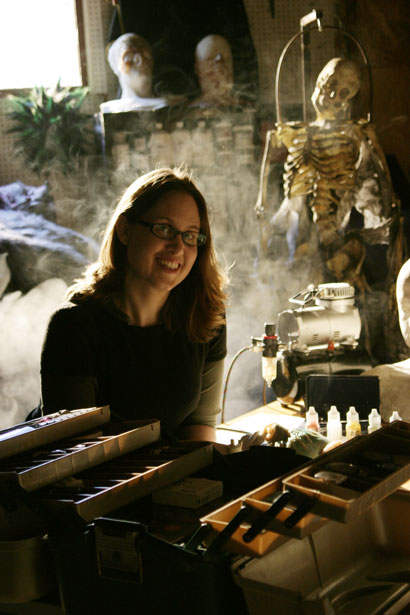 In our series of blog posts – the "New Normal" – we are looking at what creative options have been put in place to offset the disruption that Covid-19 has caused for production businesses here in Oregon.  This month we caught up with Christina Kortum at Ravenous Studios.

Ravenous Studios is one of the Pacific Northwest's go-to character makeup and prop-making shop based in Portland, Oregon, and now also Los Angeles.  Ravenous is owned and operated by Christina "CK" Kortum and offers a wide variety of makeup fx to all levels of budget. Christina has been working in the film and entertainment industry for over 14 years, on projects located around the world and has worked on such shows as "Grimm", "Portlandia", "Leverage", "The Librarians", as well as numerous independent feature films.  With her prior background in manufacturing production planning, she also has years of experience with supervising teams, organizing projects, managing budgets, and meeting deadlines.
Oregon Film (OF): Assuming the Covid-19 pandemic has disrupted your business, like so many others, what aspect would you say has been the most surprising?
Ravenous Studios (RS): The loss of suppliers for materials in our regional area.  I now have to ship in 90% or more of what I need for the business.
OF: What are the main modifications you have had to make to accommodate this new normal? (Which ideas have worked/been successful, which ones not so much…)
RS: I have had to downsize because of safety and close working quarters.  This has put an extra workload on me personally, which I still have not solved.  However, I do like the modifications I have made to my makeup kit and think I will keep them past the pandemic.
OF: Are there any surprising areas of growth in your business since the pandemic started?
RS: In some ways, I had more opportunities because I was willing to work during this time when others were not.
OF: Have you had to implement new training for your staff?
RS: Yes, all staff had to be retrained on cleaning and sanitation.
OF: If there has been any impact on staff morale, how have you successfully been able to mitigate this?
RS: We keep in the forefront that we are lucky to have goals and purpose during an incredibly difficult time.
OF: What are you most proud of doing well during this challenging time?
RS: Overcoming major supply chain issues and difficult conditions to still deliver a quality product.
You can also reach Christina at Ravenous by email ([email protected]) or by phone at (503) 887-5198.  If your matter is extremely time-sensitive, e-mail or a text is the best way to reach her.