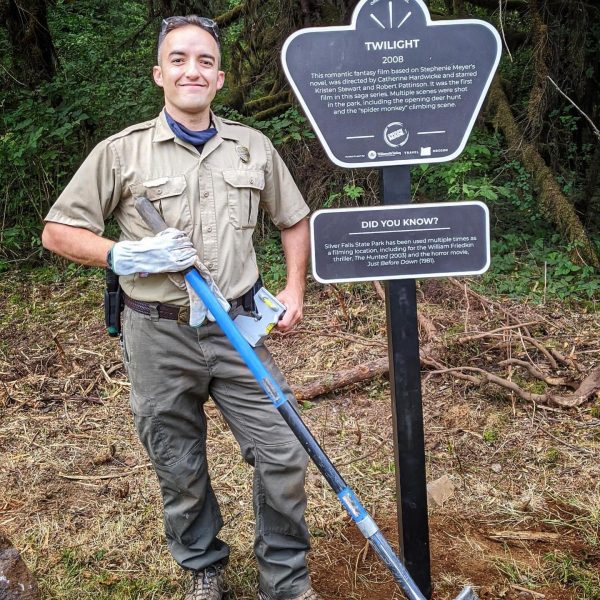 The Oregon Film Trail sign was installed last week at Silver Falls State Park, and it celebrates the starring role the park played as a location in Twilight among other films.   This is the 15th sign on the Oregon Film Trail, it was installed at the Howard Creek Trailhead parking lot near the campground within the Park.
This sign celebrates multiple filming locations related to the popular romantic vampire fantasy feature film, Twilight, that was based on Stephenie Meyer's novel of the same name. The film was directed by Catherine Hardwicke, starred Kristen Stewart and Robert Pattinson, and was the first film in this popular saga series.  Visitors and movie fans will be able to stand next to the sign and see one of the Twilight locations behind them (the opening deer hunting scene) among others close by that filmed in the Park. Other films have used Silver Falls State Park as a filming location, such as the William Friedkin thriller, The Hunted, the horror movie, Just Before Dawn, and the opening scenes from Warner Bros. animated feature, Yogi Bear.
This newest sign on the Trail comes on the heels of others that have been installed across Oregon, most recently in the small town of Athena, in Umatilla County.
This sign is a collaborative partnership between the Governor's Office of Film & Television (A.K.A. Oregon Film) – partnered with the Oregon Made Creative Foundation – as well as Silver Falls State Park, and has been funded in part by a grant from the Willamette Valley Visitors Association.
Dating back to 1909, Oregon has a rich and interesting film history with well over 500 feature films & television shows that have utilized thousands of locations around the state for a wide variety of production backdrops. Today, Oregon continues to be a destination for creative media producers from around the world. From Emmy winning television productions, to Oscar-nominated feature films; world-class animated films to award-winning interactive games – Oregon is a brand unto itself.
Oregon Film, in partnership with the Oregon Made Creative Foundation, created the Oregon Film Trail featuring signage located at strategic filming locations around the state. The creation of the Trail aims to strengthen the correlation between the film/television industry, economic development, and tourism as well as celebrating unique Oregon locations that are iconic in their own right.
Guy Rodrigue, Park Manager, Silver Falls State Park, has worked in partnership with the Oregon Film and the Oregon Made Creative Foundation to bring this sign to the park and to encourage some visitors to seek out a side of the park that is utilized less. "This is another great opportunity for park visitors to have a chance to appreciate some of the many other scenic and natural qualities in a lesser-known area of the park."
Visitors and fans of other movies such as The Goonies, Point Break, Kindergarten Cop, Sometimes a Great Notion, Free Willy, One Flew Over The Cuckoo's Nest, Stand By Me, and Short Circuit, etc., have been coming to Oregon since these films were first released. Some of these Trail signs can be seen in; Astoria, Gleneden Beach, Ecola State Beach, Hammond Marina/Warrenton, Brownsville, Athena, Cottage Grove, and Salem among others.
Tim Williams, Executive Director of Oregon Film, said, "One of our greatest assets for Oregon as a filming location is our state parks," said Tim Williams, Executive Director of Oregon Film, "and I'm so happy to be recognizing one of the most iconic of our parks with this sign. Twilight and The Hunted are just two of the productions that have come to Silver Falls State Park, there have been so many others that have turned their cameras on this site to revel in its majestic beauty. I just wish we had a way to recognize them all."
Phase two of the Oregon Film Trail has seen the creation of the Oregon Film Trail digital map and the research and initial development of an AR experience for some of the Trail locations. The many Oregon Film Trail partners will be able to utilize the digital map for their own promotions as well as to entertain and educate visitors and Oregonians alike.
The Astoria-Warrenton Area Chamber of Commerce and the Oregon Film Office developed the initial Oregon Film Trail concept and identified the Astoria movie locations as the first signs to be rolled out on the Trail last year with help from the Oregon Film Museum. Additionally, Oregon State Parks partnered with Oregon Film with the Oregon Made Creative Foundation to install a sign at Gleneden Beach State Recreation Site, three subsequent signs in Brownsville were also unveiled with partners; the City of Brownsville, the Linn County Historical Museum, Brownsville Chamber of Commerce and Oregon Made Creative Foundation, and a further sign on the north coast at the Hammond Marina, Warrenton, was installed with partnership from Hammond Marina, the City of Warrenton, the Astoria-Warrenton Chamber of Commerce and funding from the Oregon Coast Visitors Association. Two more signs were installed in Salem at the Oregon Museum of Mental Health and the Department of Corrections, with support from Salem resident, Erik Andersson, Travel Salem, and paid for in part by a grant from Travel Oregon. Additionally, two signs and a map panel were unveiled at Ecola State Park and Indian Beach in partnership with the Oregon Coast Visitor's Association and State Parks. Other signs are in the process of being installed in other locations around the state, and one in Athena, Eastern Oregon and was paid for in part by a grant from Travel Oregon.
New locations are being explored and identified all of the time such as, Smith Rock/Redmond, Ashland, Joseph, Burns, Eugene, Oregon City, Toledo and St. Helens to name a few. Suggestions are always welcome ([email protected]).
About Oregon Made Creative Foundation:
The OMCF is a stand alone 501(c)(3) non-profit corporation founded through the efforts of Oregon Film (a/k/a the Oregon Governor's Office of Film & Television). The OMCF supports storytellers, filmmakers, and artists to attain sustainable careers in the arts, especially the digital arts. Additionally, the Foundation strives to draw together – under its #OregonMade banner – support, momentum and assistance for all of Oregon communities, whether they be urban, suburban, or rural and to help build and strengthen the connections among them.  www.oregonmade.org
About Silver Falls State Park:
Silver Falls State Park is widely considered to be the crown jewel of the Oregon State Park System. At over 9000 acres and seeing more than 1.5 million visitors annually, it is one of the most popular recreation sites in Oregon, and for good reason. While many come to experience the 8-mile Trail of Ten Falls loop, there are countless of other opportunities and areas to explore such as:
40+ miles of backcountry hiking, mountain biking, and horseback riding trails.
A variety of overnight camping/lodging opportunities
2 historic districts including CCC architecture
Picnicking along Silver Creek
Nature Play Area
About Willamette Valley Visitors Association:
The mission of the Willamette Valley Visitors Association is to build awareness for the Willamette Valley as a premier year-round travel destination through marketing, sales and destination development. Serve as the regional destination management Organization for the Willamette Valley and drive visitor expenditures and economic impact to all parts of the region.
Social Media:
FaceBook @OregonFilmTrail, @oregonfilm @OregonStateParks @OregonWineCountry
Instagram: @oregonstateparks @oregonwinetrav
Twitter: @oregonfilm @ORStateParks
#OregonFilmTrail #IWonderWV #WVCommunity #OregonMade