Calling all mid-level to advanced screenwriters and playwrights to submit projects in late stage development to Open Call for Top Secret Club 2023!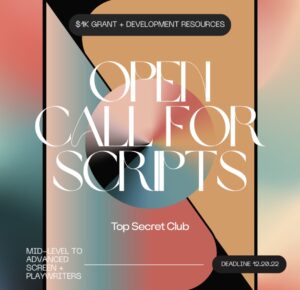 Top Secret Club is a bimonthly script development and networking event for the film and theatre community that will host table reads in front of a live audience with local actors, screenwriters, and playwrights. The table reads will be followed by a facilitated feedback session, and a community social hour.
Over the course of 2023 there will be 6 Top Secret Club events.
Continue reading...

"Scriptwriting Focused "Top Secret Club" Calls for Submissions"