BENT'S ROB SHAW COLLABORATES WITH ARTIST AMANDA VISELL FOR HONDA'S ICEBERG
In support of the launch of the 2018 Honda HR-V, Northern California Honda dealers partnered with Baker Street and Bent Image Lab to produce four millennial-focused broadcast spots for their "#Adulting" campaign. With this demographic in mind, Bent Director Rob Shaw envisioned a stylized production featuring the functional attributes of the latest Honda line. To inspire the millennial mind, the art direction and actor's performance in this socially-driven campaign would be both playful and versatile.
In Iceberg, the #Adulting narrative centers around a millennial woman with a strong sense of priorities. Below the surface her inner child can't resist candy and hasn't made her bed in a week, but the confident adult 'tip of the iceberg' has made the smart choice to drive a 2018 Honda HR-V.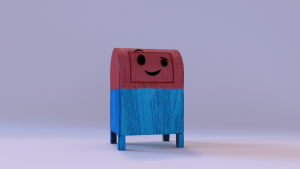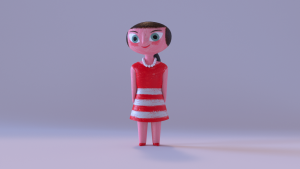 "At the heart of the creative is the idea of imagination.
It's about the inner child, so I feel like our take on this was finding a style that speaks to creativity, but appeals to adults…" – Director Rob Shaw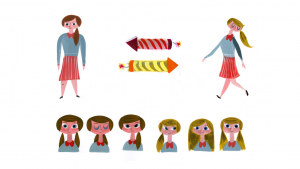 In collaboration with Baker Street Creative Director Brian Bacino, Shaw envisioned the Iceberg spots speaking to the imagination and growing pains of the millennial adult.  To achieve this, he sought out independent toy artist Amanda Visell to help bring his vision to life.
      Creating a unique set of sculptural characters, Visell's sophisticated, handmade aesthetic was used to compliment Shaw's strong sense of storytelling. Together, the combination finds its own unique blend; part sophistication, part whimsy, and fully clever.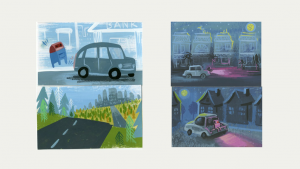 "Generally when I draw things  [for advertising] something gets lost in translation when making things animation ready. When I saw the final product I was shocked.  I thought it looked great, the combo of all the elements really fit together well… I was super impressed," 
– Amanda Visell, Toy Sculptor/Character Designer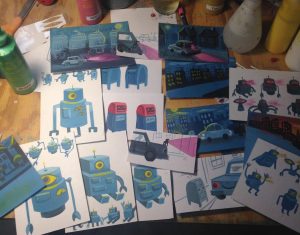 The second of four distinct spots Bent produced for the Honda campaign, Iceberg combines simple 3D shapes with practical art models initially developed as large geometric configurations. Finer details, such as the painted texture over each sculpture, were later rendered with the use of CGI. This way, the team was able to exactly capture the character design while maintaining the organic nature of Visell's famous style. In the end, surface treatments were generated to make the animation look as if it was made of wood.  In combining 2D animated textures and 3D animated shapes, the entirety of the spot hosts a magical feel when juxtaposed within a realistic setting.
"It's a look I've never seen in CG and the script was perfect for it.
This is the heart of what I think is so fun about animating Visell's style in 3D."  – Shaw
      With all artistic and technical aspects considered, the end result in Iceberg is a harmonious depiction of relatable internal conflicts on the figurative road to "#Adulting."
HONDA 'ICEBERG'
DIRECTOR: Rob Shaw
LIVE DP: Greg Schmitt
ART DIRECTION: Ean McNamara
CHARACTER & PRODUCTION DESIGNER: Amanda Visell
ASST. DIRECTOR: Lindsie Feathers
STORYBOARDS: Kamela Heyward
CG SUPERVISOR: Stef Kofman
CG TD / CAR LEAD: Sarah Deflaminis
CG TD: Patrick Coan
CG MODELER: Erick Cazares
CG ANIMATOR: Beril Pisgin
CG ANIMATOR: Dorn Roberts
COMPOSITING: Barna Howard
EDITOR: Brent Heise
WARDROBE: Rose Mackey
MAKEUP: Maria Blandino
PRODUCTION COORD.: Dani Turner
CLIENT: Northern California Honda Dealers
AGENCY: Baker Street
PRODUCTION CO.: Bent Image Lab
PRODUCER: Bri Vitale
PROD. MANAGER: Dawn Wagner
EXEC. PRODUCER: Anthony Greene