Trust is its own sacrifice.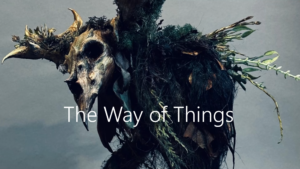 Hello everyone in the film world of Oregon. I am happy to be given a moment on this platform to talk about my new film and the campaign around it. For those of you that don't know me, my name is Martin Vavra. I am a director, producer and editor living in Portland. I've been chiseling away on a directing career in films and commercials for over fifteen years. My new film, The Way of Things is my most personal film yet, and the one that I hope acts as a transitional project.
The Way of Things is the story of Tabitha, and her attempt to keep from passing on a family secret that is generations old, to her daughter, Fiona. Tabitha inherited her family business when her father passed away. The film looks at the generational trauma of passing on a family legacy. A legacy rooted in an obligation made for the prosperity of the family, and their dependence on the natural world. This dependence, coupled with societal pressures on children, passes on generational trauma.
The tone of The Way of Things is meant to feel grounded in reality until the moment we realize the deal that has been made by the family with each generation. The dramatic aspects in the relationship between Tabitha and Fiona are the centerpiece of the story but the twist comes with the agreement made long ago. Fiona wants to show that she is mature and can be an equal in the family business. Her desire to prover herself to her mother is a natural part of her growing up. Tabitha has sheltered her from a great many things. Like her own father, Tabitha knows the dark secret in the woods and how it has sustained her family for generations. The cost, however, is a sacrifice that Tabitha is not yet prepared to make.
When I was a boy, my father used to tell me that when he got too old to be useful, he was going to wander into the woods and die under a large tree. He wanted the coyotes and birds to eat him and whatever remained would be taken in by the worms and the earth.
Most of my life has been spent trying to live up the expectations of a father ready to be eaten by coyotes.
Society is full of confusing messages about who were are supposed to be and how we are supposed to feel about life. Parents so often are just trying to get a functional human into the world with all their limbs intact. In the process, they pass on their own regrets and insecurities. They hope for better. They expect more. Generation after generation, those build into trauma that is passed on. I never wanted the things my father wanted, but I wanted so desperately for him to love me that I would do whatever was asked of me so that he would. I never took the time until later in life to figure out who I am. I gave up a significant portion of my life in the hopes my family would love me.
Similar to my personal experience of trying to gain trust and understanding with my own father, so does Fiona do with her mother. In our haste to understand a world bigger than us, we push against the safe aspects of our life. We attempt to be more than we are. Those decisions and actions end up having life changing consequences. Our bravado in our youth can turn into swords and shields in our adult life. We protect and insulate ourselves and our loved ones. We sacrifice growth and adventure for safety.
I am so thrilled to tell you about the people who are on the project so far.
Around the world, countless movie fans remember Toby Froud for his role as the "Baby Toby" in Jim Henson's 1986 feature film, Labyrinth. The son of the film's conceptual designer Brian Froud and puppet builder Wendy Froud, Toby Froud has spent a lifetime steeped in a world of goblins, faeries, trolls, puppet theatre and film-making. As well as creating art pieces and fantasy creations, Toby continues to create creatures, puppets and effects for Film and Television, such as Creature Effects for "I am Not a Serial Killer", also directing his own award-winning short film "Lessons Learned". From 2009 he has worked in the stop-motion industry as a puppet sculptor and fabricator, working with several companies including Laika. Toby's work includes Para-Norman, The Boxtrolls, Kubo and the Two Strings and Missing Link. Having spent almost 2 years supervising, sculpting and fabricating on the live-action TV series Dark Crystal – Age of Resistance for Netflix, He returned to stop-motion working as a lead sculptor & Fabricator on Guillermo Del Toro's Pinocchio.
Aaron Duran is a Latinx comic writer, novelist and creator of the short story The Way of Things. He is the creator of The Season of the Bruja, producer of Geek in the City Radio, and a freelance writer for hire. Aaron has lived in Portland for over 20 years, but spent his childhood in the desolate high desert of Northern California. He's worn many hats over the years, going from film production to radio host, and writing has always been his first love. In addition to his young adult novels, Aaron has written stories for Oni Press, Image Comics, and Activision. When he's not at his keyboard, he's in the kitchen experimenting with traditional Mexican ingredients to rediscover lost dishes.
Actress and author Tara Platt has performed internationally in film, TV, animation and theatre. She is also known for her VO work including: Marvel's Spider-Man, Fire Emblem, and Naruto. Tara and husband Yuri Lowenthal wrote Best Selling Voice-Over Voice Actor and sequel VOVA: The Extended Edition for anyone interested in getting into voice-over. Platt and Lowenthal gave a TEDx talk on Storytelling. Sitcom Whatta Lark, that she produced and stars opposite drag-sensation Poppy Fields, won an IAWTV award and is streaming on Amazon. Her books Relax Your Toes, Zartana and her new award-winning YA novel Prep School for Serial Killers are available online.
Neil Green is a Portland-based actor and will be playing the creature in The Way of Things. Previously, you can see Neil in Benehooy as the titular character. He recently finished filming "Door To The Inferno" as co-lead, directed by Calvin McCarthy and is distributed by Breaking Glass Pictures. Neil also recently worked on the feature film "The Way We Speak" starring Patrick Fabian. In between projects, Neil works as a lighting designer. He's a father of two and has been married to Maggie, who also works in the industry, for 24 years. "Having a partner in the industry is a pretty special gift. Trying to explain this industry to people outside of it, can be a bit awkward, so it's great having your biggest cheerleader also be someone to totally gets it."
Nik Hassinger (they/them) is a polyethnic, non-binary, gender-queer Filmmaker/Producer/Director who has had a passion for film and all things creative since they were very young. While growing up in a small town in Pennsylvania, Nik's Filipina grandmother introduced Nik to film, igniting a lifelong desire to make visual art. In 2020, Nik officially launched their own production company, 945 Productions LLC, based in Portland, Oregon. Nik's most recent projects include serving as 1st Assistant Director on "Screams From The Tower", a queer 90's coming-of-age film. With 20 years of multimedia experience, Nik Hassinger believes that cultivating a positive, inclusive, equitable team ethos is the key to success. Nik is excited about joining "The Way of Things" team to help tell this beautiful and heartbreaking tale.
Martin Vavra is the director and writer of The Way of Things. He's been making films in Portland, Oregon, since moving there in 2008. His film, Benehooy, has won awards for character design, makeup and writing. His prior films, A Deed without a Name, Unwelcome Guests and Department of Time Travel have been shown in festivals and theaters all over the world. He worked with production designer Tom Sanders for WETA Workshop and the designs for Mortal Engines and produced the Godzilla documentary Hail To The King.
Here are some ways you can help our campaign:
1. Follow our campaign: this keeps you up-to-date and it helps make us look popular. If we look popular, S&S can unlock perks as the campaign proceeds.
2. Stay connected: follow on Instagram and Threads for the director, as well as our amazing cast and crew linked in their bios.
3. Spread the word: share out posts on social media. Look for them on Instagram, Twitter, Threads, Blue Sky and Facebook.
4. Share share share: Send DMs, text messages, emails, fliers; whatever you can to help us get the message far and wide.