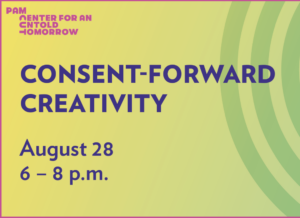 Join us for a workshop and in-depth conversation with Certified Consent-Forward Artist and Filmmaker Windy Borman MS, as she guides participants through a look at what it means to create storytelling in a consent-forward environment.
This is a part of the Creative Opportunity Program from Oregon Film.
Six years into the #MeToo Movement, discrimination, harassment, violence, coercion, and abuse still occur in arts and entertainment. The missing piece is a reckoning about consent: what it is, how to request and give it, and how to foster a consent-forward environment.
Assumptions about consent, boundaries, and abilities can lead to workplace harm, injuries, complaints, or lawsuits. However, if we begin from a place of consent, we decrease liability while increasing safety and creativity, which leads to producing better content.
Find out more by going here.