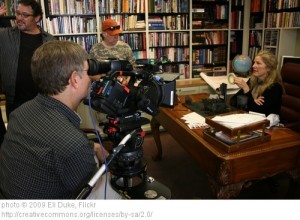 Of the five major broadcast television networks' 23 new one-hour dramas offered up last year, only two were filmed in Hollywood. State tax incentives from outside California have successfully lured many productions to other economies, and created a growing market for a variety of property owners in Oregon as location providers. Indicating the extent to which films are made outside the confines of studio lots in America, about five years ago- when California still commanded the lion's share of the film location market -Los Angeles County issued permits for over 30,000 film location days, with about 75% of Southern California's location filming shooting in private residences. Those figures are now spread more evenly among 48 states, including Oregon.
Your Location Has a BFF
Every State has an Office to attract film production business, affording a willing and invaluable source of information. They are helpful and accommodating with advice about submitting your property for location consideration by film studios. An initial inquiry will usually result in highly practical advice relevant to your local film market, along with a nudge toward fun federal facts like being able to rent your residence for up to 14 days a year income-tax free.
Price Points
To decide on the feasibility of renting your property as a film location, first determine your break-even point. Wear and tear and inconvenience top the list on what you should feel compensated for. Finally, consider the necessary profit-margin you need to make the enterprise worthwhile to you, while still remaining attractive to your potential clients. Locations with unique architectural features, sweeping views, or other highly desirable features may command top dollar and be much sought after.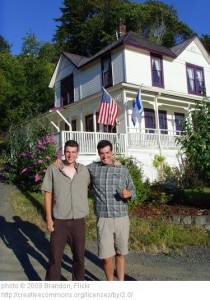 Any location scout will tell you that most properties chosen as film sets are much less glamorous than one might expect, each reflecting the setting of a particular film script. The principle house used in The Goonies, for instance, is a modest home typical of the Columbia River region and is now forever a mecca for legions of Goonies fans. Certain features, such as high ceilings to accommodate equipment and easy vehicular access, also help establish desirability. Your location and type of property will largely determine its day rates. Be realistic when establishing fees. A modest urban cottage and an estate are at opposite ends of the pay scale, for instance. Research film location websites to compare rates for properties sharing features with your house.   Rare contracts may or may not include payment for preparation days, hotel costs for you and your family, and possibly even pet-boarding costs, with most offering less complex terms, Each studio's contract is unique, so read the fine print carefully before committing. While some aspects of the contract may be negotiable, any demands deemed unrealistic will lower or eliminate your ability to secure a film location contract.
Publicizing Property
Create a simple website, a brochure, and a business card to showcase you property to location scouts. An attractive website with comprehensive content and lots of quality photography is key to the effectiveness of digital advertising. A free site is quite acceptable so long as it displays your property and lists its features effectively. Once a website is accomplished, make a Facebook page for your site and start liking everyone in the production end of the film industry in your city and in California, then join related Facebook groups. Resist the urge to over-post or offer your place with any hard-selling techniques. Instead, simply concentrate on making connections through social media.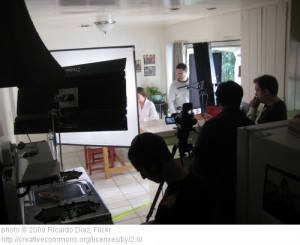 Focus marketing efforts primarily on film studios applying for permits through your state film commission by sending them your brochures with links to your site and joining film studio location services. You may also want to include local video companies that make commercials and photographers that need locations for fashion shoots and other stills. Compose a very brief email message with a link to your website. Imbed your flyer in the email, if possible. Many emails are never seen, often automatically spam-filed, so it's prudent to reach out the old-fashioned way, too, through our postal service because, like real estate, the film business is all about making connections.