Hopefully, wherever you are, you will be in the dark on Saturday, 23rd March, between the hour of 8.30 and 9.30PM!  Join many from around the world and turn off your lights in honor of The World Wildlife Fund's Earth Hour 2013.
Now in its second year, the WWF's Earth Hour challenge aims to empower individuals, businesses and even governments to bring a lasting conversation and commitment to environmental issues.  Earth Hour describes their challenge best, "The idea is simple. Someone makes a promise to do something if a certain number of people commit to take an ongoing action for the environment, beyond Earth Hour."
What are you willing to do to help protect the planet?
In addition to her work with Oregon's poverty and hunger issues ,  Oregon's First Lady, Cylvia Hayes, is also very much an environmentalist.  So much so that she agreed to be turned into a "Wesen" monster (by Special Effects Make-Up Artists from NBC Universal's show, "Grimm") by joining the World Wildlife Fund's Earth Hour global community and creating an"I Will If You Will" challenge". The challenge is an effort to encourage positive action for the environment well beyond the designated Earth Hour itself.  In return for being temporarily turned into a "Wesen" monster by the Special Effects Make-Up team from "Grimm", Ms. Hayes is challenging  1000 people to commit to unplugging unused appliances during the months of April and May.
Even when turned off our TVs and electronics can keep using electricity.  This is called the "Phantom Load" and can increase electricity consumption and our electric bill by 10%.  Ms. Hayes tells us we can stop wasting electricity and money by powering down computers, unplugging fully charged devices, and connecting TVs and stereos to power strips that can be turned off completely when not in use.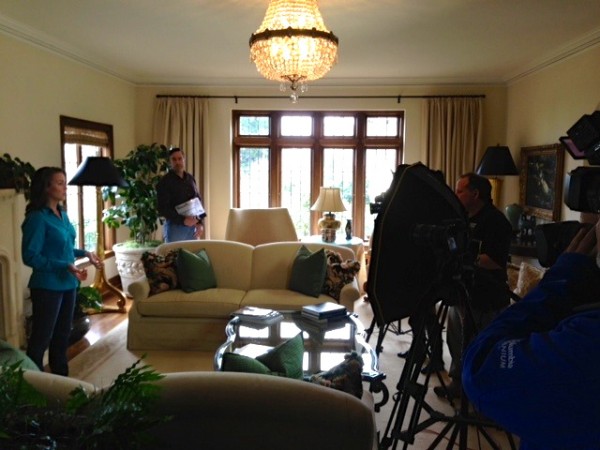 Will you join the challenge?

A big thanks to the crew from the Clackamas Community College Digital Media Program, lead by Director, Andy Mingo, that filmed the First Lady's challenge on short notice. Mingo states, "The Digital Media Program at Clackamas Community College prides itself on giving students the tools they need to land the film and television jobs of tomorrow.  We at the college share a vision with Clackamas County and the Governor's Office of Film and Television that our economy's recovery depends on the growth of sustainable industries of the future.  More and more with industries such as Film production in Oregon, that future is now."
Now you can  turn off the lights – but commit to Ms. Hayes challenge first!
-Jane