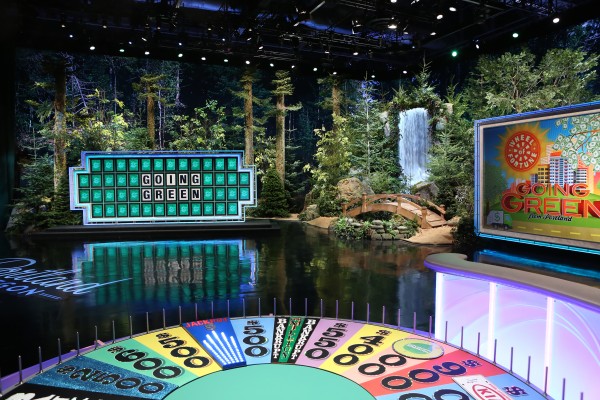 This year marks the fifth season that Wheel of Fortune has featured a "Going Green" theme week. In past seasons, Pat and Vanna have offered viewers tips for going green and have shared updates about what Sony Pictures is doing to keep the studio lot environmentally-friendly.  As well as the kick off Going Green Week, the show is also featuring, Portland Week, College Week and the Great Outdoors.  See the schedule for air dates on KATU below:
| | |
| --- | --- |
| Going Green (Portland) | Apr 30 – May 4, 2012 |
| Portland Week | May 7 – May 11, 2012 |
| College Week (Portland) | May 14 – May 18, 2012 |
| Great Outdoors (Portland) | May 21 – May 25, 2012 |
We were there for the Going Green Week taping and the set looked amazing, complete with a digital waterfall and greenery -both live and re-useable manufactured greens.  Vanna was even sporting some snazzy eco-dresses, all creations of local designers; EcoSkin, EcoVibe Apparel and Jet Clothing.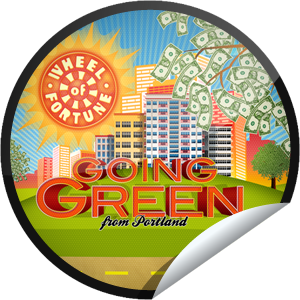 Interestingly, Sony Pictures Entertainment; A Greener World, has a comprehensive sustainability policy across all aspects of their business.   They report that they have found going green saves money too: "our realization of 14% reduction in absolute carbon emissions since 2006 has resulted in $11.5 million in annual savings."  Pretty amazing.  They also encourage green messaging across productions and international television networks as well as Best Practices on set.  "Sony Pictures enforces our Green Production Policy that outlines best environmental practices for movie and television productions.  In addition, every SPE motion picture is required to complete a Carbon Footprint Calculator that aggregates the production's greenhouse gas emissions, including transportation, on-location and on-set energy use."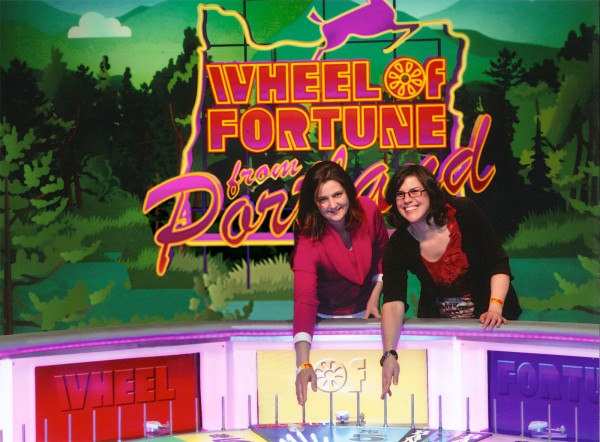 Some facts about Wheel Of Fortune's Green Week:
The wheel and puzzleboard, along with the show's other electronics, were driven to Portland from Sony Pictures Studios in Culver City, California aboard tractor trailers powered by low-emission, biodiesel fuel.
Wheel of Fortune's art department designed and built the eco-friendly set with all natural materials (10,000 pounds of it), water-based paint and reusable greenery. The show intended on donating any reusable wood, carpet and soft goods to local schools and theater groups (there is no official list yet of where at the time this blog was written).
The staff and crew also did their part by using TriMet, to move around the city.
Organic crew meal leftovers were all composted.  Biodegradable cups and aluminum water bottles were used in place of plastic bottles on set.
Wheel of Fortune and Sony worked with a local recycler, IMS Electronics Recycling, to give Portland residents an opportunity to recycle their old electronics safely and responsibly. Participants at the recycling event also had the chance to spin a wheel for prizes including a Wheel of Fortune VIP Experience and Sony gift cards.
The grand prizes were eco-friendly cars  (Chevrolet Volt, Nissan Leaf, Toyota Prius and Toyota Highlander Hybrid)….you will have to watch to see if anyone won one!  Other prizes throughout the shows included gift packages of eco-friendly products from Seventh Generation and trips from GreenEarthTravel.com, Aruba Nature Sensitive Tours and Earth River Expeditions.
All in all, it was impressive what the Wheel brought out and highlighted to show off Going Green in Portland.
-Jane