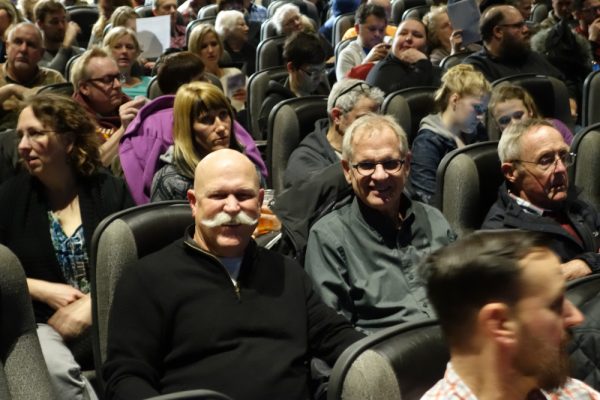 Since 2015, Oregon Cartoon Institute has offered an annual one day crash course in Oregon film history attended by educators, historians, curators, librarians, archivists, writers and filmmakers.
Fourth Annual Oregon Film History Conference
Friday, May 4, 2018
9:00 AM – 4:00 PM
University of Oregon, White Stag Auditorium
70 NW Couch
Portland, OR
This year's conference focuses on the minor cinemas of Oregon: newsreels, educational films, industrial films, promotional films, scientific films, television commercials, student films, experimental films, animation, home movies. The day culminates in a guest appearance by Will Vinton, who began in one of the minor cinemas, experimental animation, and went on to become one the most important figures in Oregon film history. Fellow independent, Seattle exhibitor-distributor Randy Finley, will join Vinton for an onstage conversation about their path to the Oscars.
Less formal than an academic conference, the Oregon Film History Conference is more specialized than an event open to the public. It provides an annual opportunity for professionals who share an interest in Oregon film history to step outside their specialty and interact.
The conference steering committee includes Anne Richardson, OCI; Elizabeth Peterson, UO Libraries; Libby Burke, BPA; Michele Kribs, OHS.
The conference is free, but registration is required. Participants must supply a qualifying affiliation with a school, museum, historical society, or other non profit organization whose work engages with Oregon film history in some way.
Registration closes Friday, April 27.
Founded in 2007 by Anne Richardson and Dennis Nyback, Oregon Cartoon Institute uses new media, archival film, research, networking, and cross disciplinary discussion to explore Oregon film, animation, and print cartooning history. A 501c3 non profit organization, it has no brick and mortar presence, and always works in partnership with organizations which do.
The 2018 conference receives support from University of Oregon Libraries, Oregon Film, Oregon Film Museum, Dark Horse Comics/Dark Horse Entertainment, and the James Blue Alliance.