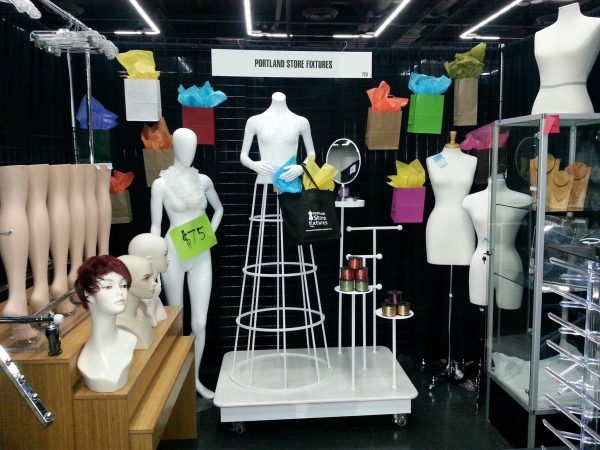 My company, Portland Store Fixtures, is exactly what it sounds like: we rent and sell store fixtures. (In Portland.) We stock mostly used so we have a lot of interesting oddities, but the basics of our business are shelving units, showcases, clothing racks, cash counters, mannequins, display forms – everything you need to make a store look like a store.
The majority of our revenue comes from selling fixtures to retail establishments, and most of our rentals are to clothiers, jewelry designers, and other retailers who just need a rack or a mannequin for a one-day event like a convention or a festival. Since 2010, though, we've also had a healthy sideline serving as a prop shop for locally-filmed productions – in 2015, we brought in just over $10,000 renting and selling to productions like "Wild", "Portlandia", "Grimm", "The Librarians", and countless small local projects like commercials and web series.
Working as a prop shop was never something we actively set out to do – we never marketed ourselves that way, or researched how to go about it. It just kind of happened, bit by bit and production by production. The first film we rented to was William Friedkin's "The Hunted" in 2003. I have no idea how they found us – of course, not many people do store fixtures, so they probably just picked us out of the yellow pages. (Back then, people actually used the yellow pages.)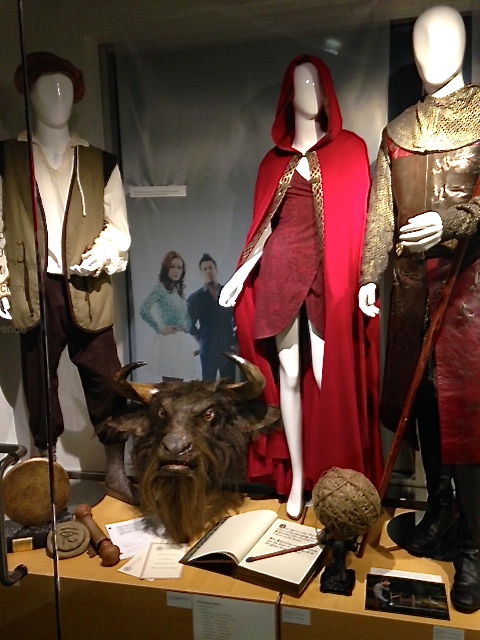 We didn't truly become a prop shop until 2010, when production in Oregon was starting to pick up, and by then I'm guessing the next production that came to us found us through the internet. After that, people came to us mostly through word of mouth. Prop masters in Oregon work on many different shows, so once they find a good resource, they'll take that knowledge to other productions. Our business in general has mostly grown by word of mouth, so it's not surprising that it happened that way with film and television productions too. The fact that our customers will recommend us to other people is a great assurance that we're doing something right.
When a set designer is doing a retail setup for a movie or a television show, they tend to come to us – after all, we already have everything that makes a store look like a store. Usually retail set pieces are only needed for a scene or two, so the production will just rent what they need for a few days. It's great for productions since they don't have to pay full price for something they only plan to use once. It's also great for our mission of sustainability – instead of being junked, a shelf that's used in the background of a scene can go right back into our warehouse to be used again.
We're also the obvious go-to for all things mannequin. During the first season of "Grimm", they rented 80 various bodies – mannequins and dress forms – for an episode called "Of Mouse and Man." The villain of the episode was a mouse creature that ran a junk shop (so you could say he was a bit of a pack rat) and the set designers placed our mannequins artistically and creepily throughout his store. It was definitely an interesting day watching all those bodies march out our back door – and even more interesting seeing which ones ended up in the episode!
If you're planning to modify and/or blow up something, though, you do have to buy it. Back in 2010, the series "Leverage" had an episode called "The Runway Job" where the characters investigate a sweatshop that's connected to the world of high fashion. One of the characters gets into a fight with three members of the Chinese Mafia who are wielding cleavers, and he uses a dress form from the factory to deflect the cleaver and disarm the fighter – pretty clever!
For that scene, they bought they dress form, and they also came into the shop to test a bunch of different forms to see which ones would make the cleaver bounce off, and which would actually absorb the blow. Usually customers want to avoid hacking their dress forms up with cleavers, so watching a whole series of them get sliced and diced certainly wasn't an everyday occurrence. It was definitely fun, though.
A lot of the attention paid to the impact of the film industry focuses on the tax dollars we make and the employment opportunities afforded to local workers, which is of course fantastic – "Grimm" alone employs about 350 people full-time, and roughly 95% of those are Oregonians. Running a store that rents and sells to other stores, though, I've personally felt the impact of the film industry in Portland not just on my own business, but also on the businesses of my customers. I know City Liquidators sells a lot to productions, and the consignment store Seems To Fit sells and rents costumes.
Even if my customers aren't renting or selling their merchandise, many of them are renting their spaces. Some places might think location shooting is a nuisance, but here in Portland if someone's shooting down the street or in our lot it's cool and exciting. A lot of the prop masters and other industry people that come into my store have said that's one of the major reasons they like filming in Oregon – everyone is so appreciative about them being here. Here at Portland Store Fixtures, we love our production friends and we look forward to more projects that feature our products as well as our beautiful state.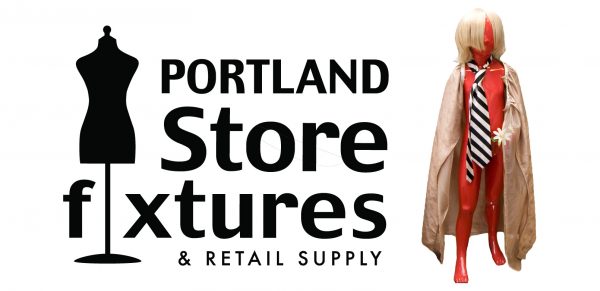 #OregonMade
#PortlandStoreFixtures
#OregonMadeShows