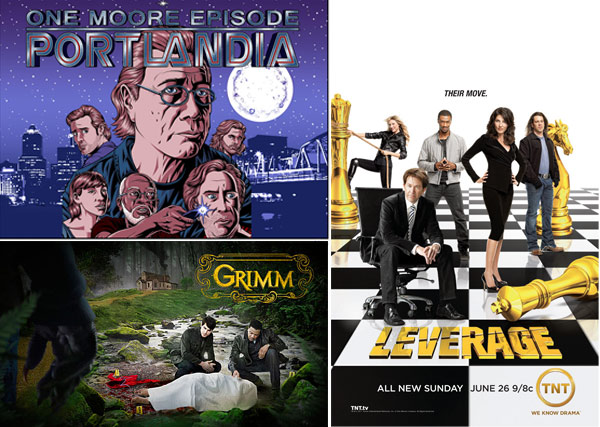 Are you ready for a weekend full of Oregon produced Television?  Starting tonight on IFC "Portlandia" airs episode 2 of its second season.  Tonight's episode includes guest stars Jeff Goldblum, Edward James Olmos, Eddie Vedder, and even an Eddie Vedder tatoo.  I had the chance to see the episode early and I have to say that the Portland Allergy Pride Parade is hilarious!  Season 2 got off to a great start last week and the ratings were greatly improved from Season 1. We're all anxious to see how far this show can go and I'm particularly excited to moderate a panel featuring Fred and Carrie at Webvisions in NYC next Friday.
After you catch Portlandia at 7:00 (PST) on IFC, your next stop needs to be NBC with a new episdoe of "Grimm".  According to the promos, it looks like we're in for a visit from a pretty mean Ogre.  The show began production of the back nine episodes for season 1 and will be in production through the middle of April.
You can take a break from watching television on Saturday but be sure to tune in to see part two of the season finale of "Leverage" Sunday night on TNT.  The episode will bring back many of the past guest stars from previous seasons for what proves to be a thrilling conclusion.  At our annual meeting in December, Dean Devlin announced that the show will be set in Portland next year and they are building a new stage for new sets.  So we don't know how the Nate and his team ends up in Portland yet but be sure to watch so you'll at least know why.