Posted by Carly Petrone, U of O Grad Student
Filmmakers begin to move film and television production up to the Pacific Northwest.

Portland, Ore. – Portland, Oregon is rapidly becoming the next production capital of the west thanks to the hit television show Portlandia, which debuted on the Independent Film Channel last January.
The wildly popular show, set to debut its second season in January 2012, stars comedians Fred Armisen and Carrie Brownstein. Armisen, best known as a returning cast member of Saturday Night Live and Brownstein, a former band member of Portland-based Sleater Kinney, first grabbed viewers attention when the six-episode series aired earlier this year. The show is a mash up of different short films, all focused on Portland culture and the people within it. A-list actors from Kyle MacLachlan to Penny Marshall and musicians like Eddie Veder and Johnny Mars are set to make guest appearances this year.
Portlandia isn't the first television show to be shot in the Pacific Northwest metropolis. Leverage, which airs on TNT, has been filming in the Portland area for four seasons while NBC's newest series, Grimm, is also produced out of the Rose City. It's because of these shows, as well as many national commercials and recent feature film productions, that filmmakers and production companies are taking their crews and money up to the state of Oregon.
"Recently most of the projects that come up here are already written to be in Portland or Oregon or they want to rewrite their script to be set in Portland. It's a pretty great place to film. One big advantage we have is the diversity of terrain and locations. You can shoot up on Mount Hood or go out to the coast and get a great coastal scene. You can be in downtown Portland and get an urban scene and you can be in a rainforest and desert all within a day," says Vince Porter, Executive Director at the Governor's Office of Film and Television.
This has led to the creation of hundreds of jobs and a positive impact for the local economy. The Governor's Office of Film and Television has played an integral part in getting filmmakers and television production crews set up in Oregon. The office has never been busier.
"We're fully booked this year. For the year I can tell you we expect that the total amount spent on television, film, and commercials in the state to be over $110 million. The previous record in 2009 was $62 million. So we've almost doubled our record in terms of total amount spent on these projects," says Porter.
Hit shows like Portlandia and Leverage have put Portland on the map when it comes to desirable places to shoot. What's another reason for this? No sales tax. Carly Sertic, who was prop master and graphic designer during season one of Portlandia, agrees. "Portland's draw for production is 99.9% due to the state tax incentives we offer. A few years ago, our government made a really smart decision to offer money back to productions that come here and spend millions in order to be competitive with other states doing the same thing like Louisiana," says Sertic.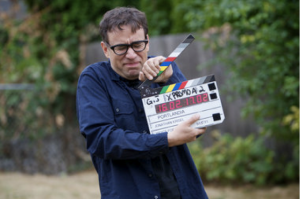 The Oregon Production Investment Fund rebates 20% of goods and services and 10% of Oregon-based payroll. This applies to projects spending a minimum of $750,000 in Oregon for any single project or season of a series. Lack of sales tax on goods and services immediately saves 7%-8% on production costs, which is a big lure to shooting in the Pacific Northwest. Plus, unlike other states' programs, the incentives are cash rebates as opposed to tax credits.
"At the end of the day producers can expect between 15%-17% cash rebate on expenses in Oregon. It's not by any stretch the most lucrative deal out there," says Porter. There are over 40 states that offer incentive programs. "The percentage of what other states offer on expenses goes up to 42%. We're not offering the most amount of money percentage wise on your expenses, but the fact that we have one allows us to have a conversation with people and show off all the other things we can do here locally to make it worth their while," adds Porter.
This has led to more jobs in the film industry during a time when many Americans can't find steady work. "This year we had three TV shows and a few feature films shooting all at once. We're in the middle of a recession and I've never had so much work in my life," says Sertic.
Besides hiring production crews, millions of dollars were spent last year during filming on various things like security hardware, restaurants, and hotels. Over 90% of the Portlandia crew consisted of local hires while Leverage puts over 450 locals on payroll each season.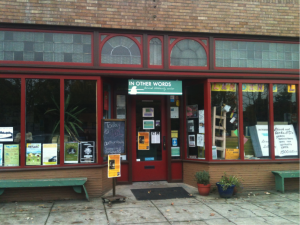 Filming inside local stores and restaurants has its benefits, too. In Other Words is the feminist bookstore where Portlandia shot one of its most popular scenes. Although the small store did see an increase in foot traffic after the first season aired, it was still hit hard by the economy. The Independent Film Channel stepped in and threw a fundraiser to help raise money for the local bookstore. Fans of the show enjoyed a Q&A with Fred Armisen and Carrie Brownstein while one lucky person won a walk-on role during filming of season two.
"It brought a lot of people into the space who don't normally come and they were just fans of the TV show. We were excited about reaching out to a new demographic through that event," says Julie Park, an In Other Words board member.
Hours of preparation and paperwork go into producing a television show like Portlandia. The sketch show shoots throughout the city inside coffee shops, concert halls, restaurants, houses, stores, hotels, and city buildings. Plenty of scenes are also filmed outside at public parks, bridges, and within various neighborhoods. In order to begin filming, Portlandia's production company, Broadway Video Television, had to first obtain permits and permission from business and property owners.
This may seem like a simple process but in a town like Portland where bridges are owned by the county and the city, depending on which part you're standing on, it can get complicated.
"If you were to shoot on the Steel Bridge, which is owned by the railroad really, you would need permissions from TriMet, Southern Pacific, Oregon Department of Transportation, the county, and the city. So there would be five permits for that. In general, the process depends on what agency you're involved in," says Bob Schmaling, Lead Project Manager at the Governor's Office of Film and Television.
Schmaling, Porter, and two other co-workers within the office help productions find, secure, and utilize the various locations that the state of Oregon has to offer. Their mission is to promote the development of film, video, and multimedia industry in Oregon.
Another helpful place to turn to regarding permits and insurance is The Portland Film Office. This department is a collaboration among the Mayor's Office, the Portland Development Commission, and dedicated resources within city bureaus. Shelley Midthun is the Portland Film Liaison at the Mayor's Office of Film and Video. She acts as the middleman between production companies and various bureaus throughout the city.
"With a show like Portlandia they're dealing with a couple of main bureaus and departments. On a city level there is the Portland Bureau of Transportation. They do all the permits for if you want to use the sidewalk or street, reserve parking for production vehicles, or clear for picture. With so many beautiful parks in Portland, a lot of shooting happens in them so we get permits through Portland Parks and Recreation. The Office of Management and Finance manage leases for the city buildings so that's a whole other permit process," says Midthun. The Portland Police Department also interfaces with the Film Office quite often. "They help direct traffic and they're on scene for various needs of the production," she adds.
Since Portlandia shoots around neighborhoods as well as inside residents' houses and businesses, a neighborhood notification letter is required. The courtesy letter must be distributed at least 3 days prior to shooting and it must include the name of the production company, type of project, exact dates, times, and locations of the shoot, as well as the location manager's contact information. This helps mitigate any interference between production crews and Portland residents.
"We work well in our community so we can continue to enjoy a large volume of filming in a minimal evasive way," says Midthun.
The community is definitely responding. Last year's season of Portlandia spawned a variety of catch phrases including "Put a bird on it." This originated from a scene between two characters named Bryce Shivers and Lisa Eversman. The pair take over a boutique gift shop and put birds on everything in order to help the owner sell more products. The phrase has had such an impact on the city that stores and websites are noticing a rise in the popularity of bird-like items since the first season aired.
Local artist Molly Rahe has been making handcrafted jewelry in Portland since 1996, and was making bird necklaces for most of that time. "The necklace sells 4 times more now since the show began. Stores that carry my line have told me that they make a point of buying many items with birds on it and displaying it together," she says. Rahe has an appreciation for the show and loves how lighthearted it is, even if it is poking fun of the city. "My favorite aspect of the necklace is how it brings so many conversations about Portlandia when I am exhibiting at an art show. It always is one of the first items to sell, and often to a fan of the series," she adds.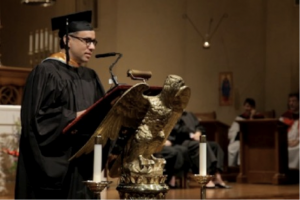 The show's popularity has also had an impact on local schools. Armisen was asked to deliver the commencement speech at Oregon Episcopal High School for the class of 2011. The "Put a bird on it" reference was even mentioned during the ceremony. "I stepped outside and noticed that all you guys were wearing birds and I just wanted to say that was the sweetest thing," he says in his speech. As far as advice goes he had this to say to the graduates. "Avoid people who tell you that what you want to do is not possible. All of you can be male models. Every single one of you. Even the girls," he adds.
All jokes aside, Portlandia has proven to be a show that fans can't wait to watch. It's also given Portland fifteen minutes of fame and then some. Even the Mayor, Sam Adams, can't escape the phenomena. "The fact that I'm now most frequently stopped in airports around the world and asked if 'I'm that guy on Portlandia' instead of mayor of the best city in America, underscores the amazing power the film industry can have on our international visibility," he says.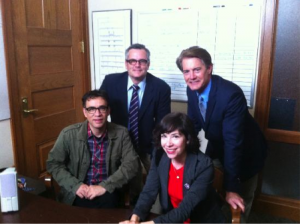 Speaking of international visibility, the show's popularity has reached as far away as Ireland. "The Irish Times had seen the show, Portlandia, and wanted to get a sense of what was going on in Portland. I was stunned that the publication had picked up on the show and was interested in writing about our city. They told their readers if you're a fan of the show or are interested in Portland here are the places to go," says Vince Porter.
Portlandia has also generated quite an audience within the world of social media. Fans can follow the show on Twitter, Facebook, IFC.com, YouTube, and various blogs. There's a Facebook page dedicated to "Putting a bird on it" and you can even adorn your own website with a bird logo at www.putabirdonit.com. People are talking, emailing, tweeting, Facebooking, and sharing video clips about the show to their friends and next season hasn't even started yet.
Whitney Matheson, who unwraps pop culture's hidden treasures in her Pop Candy blog for USAToday.com, knew about the show early on thanks to its online predecessor, Thunderant. The sketch comedy duo starred Armisen and Brownstein and featured many of the Portlandia characters. "They had a lot of viral videos before the first season even aired. There was already some buzz about it for sure. " she says.
With Los Angeles just a plane ride away, economic incentives, and a lush landscape as a backdrop, it's no wonder production crews are heading to Portland to film. The cultural phenomenon of Portlandia appears to be at an all time high as the sketch show gears up for season two. With so many fans and word of mouth advertising, it will be interesting to see how many people tune into the 10 episodes IFC has slated for next year. Stay tuned.
For more information about film production, permits, and agency contacts in Portland go to www.pdc.us/film or oregonfilm.org. The second season of Portlandia begins on January 6th on IFC. Go to www.ifc.com/portlandia for more details.