One Night Only (May 26th) Limited Screening of New Thriller COMPOUND FRACTURE with Actor/Producer Tyler Mane (Sabretooth, Michael Myers) in Attendance.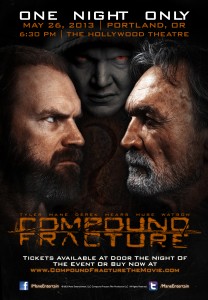 Tyler Mane will personally screen his new film, Compound Fracture, May 26th in Portland, OR at the Hollywood Theatre. This will be one of the"one night only" stops on the Limited Meet & Greet Screening tour in the U.S. and Canada.
Mane, known primarily for his acting career (his credits include, Michael Meyers in Rob Zombie's Halloween & Halloween II, Troy, The Scorpion King, Joe Dirt, X-Men), co-wrote, produced and co-stars in this new supernatural thriller.
Continue reading...

"New Thriller "Compound Fracture" Screening at the Hollywood Theatre May 26th"