One Night Only (May 26th) Limited Screening of New Thriller COMPOUND FRACTURE with Actor/Producer Tyler Mane (Sabretooth, Michael Myers) in Attendance.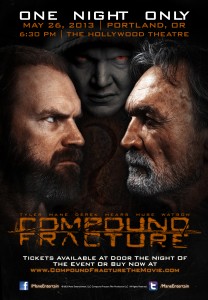 Tyler Mane will personally screen his new film, Compound Fracture, May 26th in Portland, OR at the Hollywood Theatre. This will be one of the"one night only" stops on the Limited Meet & Greet Screening tour in the U.S. and Canada.
Mane, known primarily for his acting career (his credits include, Michael Meyers in Rob Zombie's Halloween & Halloween II, Troy, The Scorpion King, Joe Dirt, X-Men), co-wrote, produced and co-stars in this new supernatural thriller.
VIP ticket holders will have an exclusive pre-show meet-n-greet with Mane and other cast members, signing and a photo opportunity, view a behind the scenes featurette and will be automatically entered to win one of several prizes, including but not limited to props and costumes from the film Compound Fracture, a walk-on role in Mane's next film, Penance Lane, or a screen-worn Michael Myers jumpsuit from the Rob Zombie cult-classic film, Halloween. All ticket holders are invited to stay for Q & A with Mane, co-producer/writer Renae Geerlings (previously the Editor in Chief at Top Cow Comics), and other available cast and crew immediately following the film. Gold VIPs get full-sized movie poster and are invited to a private event after the show.
Compound Fracture is a character-driven supernatural thriller in the vein of Rosemary's Baby, Amityville Horror and The Legend of Hell House, revolving around a family, dealing with abuse, abandonment and dementia, that is stalked by vengeful spirits. The film culminates in a bloody, Battle Royale between the actors who played Michael Myers (Mane), Jason Vorhees (Derek Mears, Friday the 13th) and Ben Willis (Muse Watson, I Know What You Did Last Summer).
Directed by Anthony J. Rickert-Epstein and produced by Mane's production company, Mane Entertainment, Compound Fracture will screen in select cities across the country through the end of the year.
Tickets are on sale now at www.CompoundFractureTheMovie.com