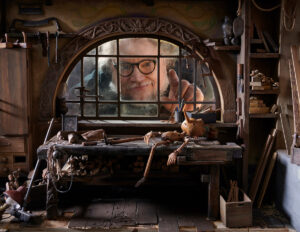 The Portland Art Museum will be hosting the Guillermo del Toro: Crafting Pinocchio exhibit this summer. The exhibit is "a celebration and exploration of the inventiveness, passion and artistic cooperation that goes into making a cinematic vision come to life." The exhibit started at MoMA in New York and is now opening at the Portland Art Museum on June 10th and will run through September 17th, 2023. This special exhibition will give visitors a close-up look at the imaginative creatures, set pieces, cutting-edge stop-motion animation, and fantastical visual and sound elements behind the Oscar-winning film "Guillermo del Toro's Pinocchio".

The Portland animation studio, ShadowMachine, collaborated with writer-director, del Toro ("The Shape of Water", "Pan's Labyrinth") on this new version of the age-old favorite fable for Netflix. The story is set in Mussolini's fascist Italy and features the voices of Ewan McGregor, Cate Blanchett, Tilda Swinton, and John Turturro. (ShadowMachine also created the popular Bojack Horseman and The Shivering Truth, among many other shows.)
This stop-motion project took over 4 years to create and provided over 200 local jobs each year of production and millions of dollars were spent in the local economy. Tim Williams, Executive Director, Oregon Film, noted that the work on this del Toro production "is a testament to the artistic talent that lives and works in Oregon, and to the world-class animation industry that calls this state home."
Guillermo del Toro's "Pinocchio" streaming on Netflix and is currently in theatres. The film is currently a nominee for Oscar and BAFTAS' Best Animated Feature Film, BAFTA's Best Original Score, and Best Production Design, among many other nominations, and is also the winner of the Golden Globes' Best Motion Picure – Animated.
The Portland Art Museum's presentation of Guillermo del Toro: Crafting Pinocchio will expand on the richness of the local stop-motion animation community by giving visitors a look inside the artists' process. The exhibition and programs will give special attention to the talent and creative collaboration of the local cinematic animation artists at ShadowMachine—a renowned stop-motion animation studio based here in Portland, Oregon, a city increasingly recognized as a creative hub of the artform.
In addition to the exhibition itself, PAM CUT // Center for an Untold Tomorrow, the Museum's film and new media arm, will enhance and deepen the experience of Guillermo del Toro: Crafting Pinocchio with classes, programs, and a screening series celebrating the art of stop-motion animation. ShadowMachine co-founder Alex Bulkley was a 2021 honoree of PAM CUT's Cinema Unbound Awards, which celebrate boundary-breaking multimedia storytellers working at the intersection of art and cinema.
Exhibition running Jun 10, 2023 – Sept 2023
---