Our friends at the Confused Breakfast podcast are at it again – they just made their second field trip to Astoria and this time to visit the Short Circuit House. 
The Confused Breakfast podcast takes its listeners and viewers on a "nostalgic journey back to the movie rental store era and the amazing movies from our childhood that we all know and love. With the benefit of 20+ years of hindsight, we revisit and dissect these classic movies to see if they still move us the way they did as kids. A new episode is released every Wednesday" – all you set-jetters out there should check it out!  (Here is the Goonies House episode where Confused Breakfast toured the house before it sold!)
Astoria has had its fair share of movies filmed in the city (Short Circuit, The Goonies, Kindergarten Cop, Free Willy, Into the Wild, Green Room, The Black Stallion, The Ring Two, Cthulhu, Benji the Hunted, among others) and even has its very own film museum filled with interactive activities, props, and photographs from past productions. In partnership with Oregon Film, Astoria was also the first town to jump on the Oregon Film Trail (since then Oregon Film and partners have added 38 additional signs to the Trail and it is now totaling 41 signs all across Oregon.)
In addition to all this nostalgic movie fun, Oregon Film began a partnership in the summer of 2021 with a new global film tourism app – SetJetters. With the growing number of Oregon Film Trail markers in the state, Oregon Film wanted a way to magnify the Oregon Film Trail signs, the state's film history, and to bring even more visitors to our communities.The handy SetJetters app provides a way to find movie locations around the world, navigate there to see them for yourself, and it even has a snappy side-by-side "ShotSync" feature that matches the user's photo to the exact scene. Additionally, the app helps the user find points of interest and services close by (and even can navigate the visitor to all the Oregon Film Trail markers) in our Oregon communities (and beyond) and there are now even collectible badges to find! The app is a really fun way to guide a day out, or a weekend away to discover the Oregon Film Trail. (If you don't already have the app, download it here.)
Oregon can now boast of a few film locations that have the added benefit and fun of an option of a night's stay – such as: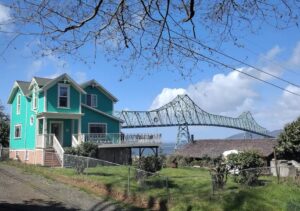 The Short Circuit House is described on Airbnb as being "built in 1882, this charming Victorian farmhouse was used in 1986 film 'Short Circuit'. Located in historic Uniontown-Alameda, guests are just minutes away from downtown Astoria, and a short drive to our many coastal attractions. The house has been remodeled to match its appearance in Short Circuit. Fun pieces of movie memorabilia and promotional artwork can be enjoyed inside the home".
Expedia has already noted that film tourism will be a strong travel trend in 2023 – so, see you on the (Oregon Film) Trail!
#OregonFilmTrail