Did you know over 100 million people a year are inspired to travel by movies and TV?  
Our Oregon Film Trail partner, and Seattle company, SetJetters, has already built the app for this kind of "Film Tourism"!  SetJetters has digitized an $8 billion dollar tourism industry and put it all in one place.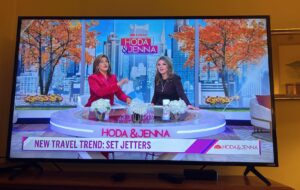 The concept of Film Tourism (Set-Jetting) was explained last week on the Today Show and explores the statement from Expedia that Set-Jetting is the travel trend of 2023!
The SetJetters app allows visitors to find the exact shooting location of movies putting thousands of movie scenes in the palm of users' hands.  With the largest mobile movie scene database in the world and growing, SetJetters is aggregating global movie and TV scene locations and connecting them to the film tourism community. Users can navigate to the exact location where the camera once was and stand in the same spot to recreate the scene with the app's "ShotSync" feature that produces a "then and now" composite image.  This can then be shared across the SetJetters social feed and your social media. SetJetters is built for film tourists and Main Street. "We have gathered film tourists on the app – bypassing Instagram, Facebook, and other social media platforms, so businesses can access the exact demographic they want; tourists visiting movie scenes near their business."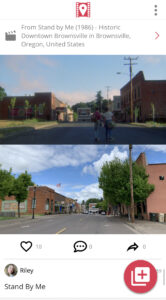 A new function is scene collection that allows the user to work their way up the leaderboards, much like Pokemon Go. Brands now have the ability to create their own Sponsored Collection Badges! (Look for the Oregon Film Trail badges in Oregon on the app!) Users can also submit a scene to the database and receive credit for their contribution.
SetJetters was created by out-of-work filmmakers and gaming enthusiasts during the Covid work lull and launched in June 2021 in the Pacific Northwest, with three founders in Seattle, Washington. Now that the world is opening up, film tourists are using the SetJetters mobile app to discover the travel opportunities around them through their favorite films.
What can you do with the SetJetters app?
What's near you? Find the exact scene location of your favorite movie and use the app to navigate there.
Explore and collect badges for over 7,000 scenes.
Take a "ShotSync" at the scene and post it to social media.
Find 700 scenes in the PNW alone.
Visit 967 films in 47 countries in 608 cities around the world.
Find and navigate to all the Oregon Film Trail signs and local points of interest listed on the app.
For more info: SetJetters.com Erik Nachtrieb, CEO | [email protected] Ph/WhatsApp | +01 206 293 771