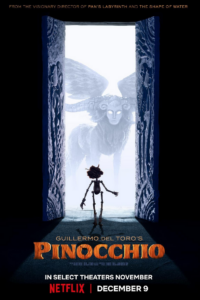 Guillermo del Toro's take on the classic story of "Pinocchio" was honored with a Golden Globe on Tuesday night with a win for "Best Animated Feature Film".
The Portland animation studio, ShadowMachine, collaborated with writer-director, del Toro ("The Shape of Water", "Pan's Labyrinth") on this new, and darker, version of the age-old favorite fable for Netflix. The story is set in Mussolini's fascist Italy and features the voices of Ewan McGregor, Cate Blanchett, Tilda Swinton, and John Turturro. (ShadowMachine also created the popular Bojack Horseman and The Shivering Truth, among many other shows.)
This streamer project was produced over 4 years and provided over 200 local jobs during every year of production. Additionally, millions of dollars were spent in the local economy; from dry cleaners to prop fabricators, to rental cars, and to camera rentals. Tim Williams, Executive Director, Oregon Film, noted that the work on this del Toro production "is a testament to the artistic talent that lives and works in Oregon, and to the world-class animation industry that calls this state home."
Read more about this project in OregonLive.
ShadowMachine is a world-renowned, award-winning animation and production studio in Los Angeles, California, and Portland, Oregon.