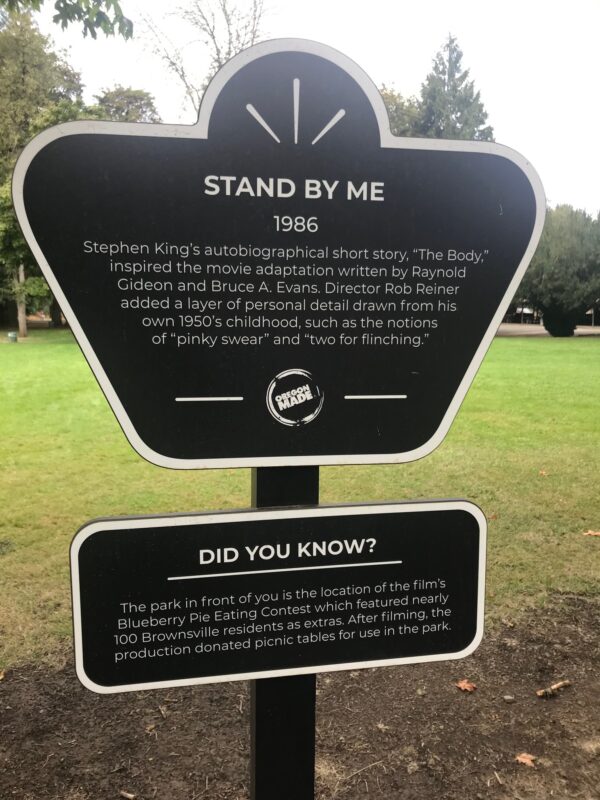 In recent years, Film Tourism is growing into a more robust niche sector of cultural tourism, and remarkably Oregon has hundreds of incredible locations that have starred in films, TV series, and shows, as well as commercials. The Oregon Film Trail has been slowly rolling out more and more trail stops that highlight our State's contribution to the film industry.  Historic Brownsville was one of the first towns to welcome Oregon Film Trail signs in recognition of its contribution to the film, "Stand By Me ".   Fans of this classic movie have been coming to Brownsville since its release in 1986 however it wasn't until 2007 that the Brownsville community held the first event to commemorate the filming and the fan base expanded by leaps and bounds ever since. In the early days of Stand By Me Day the average visitor count was 100 to 200/day but after the 30th Anniversary, the visitors average leaped to 500/day and over 3,000 fans all-told.
We checked in with Linda McCormick (Chairman, Stand By Me Day) and Barbara Andersen (Staff at the Linn County Historical Museum) in Brownsville to find out how Film Tourism is affecting their charming small town that played for the fictitious, and much loved 1950's era small town of "Castle Rock".
Stories from the Oregon Film Trail
By Linda McCormick: Chairman of Stand By Me Day
"Brownsville has had fans coming to see the scene locations of "Stand By Me" since the movie came out back in 1986, but it really picked up around 2007 when we had our first event to celebrate the movie. Today, we have fans that fly in from foreign countries and across the United States!
Back in 2007, the Chamber of Commerce had a couple of members take on the task of planning an event and asked me if I would like to help. I had only seen the movie once, on TV, but figured I could try to help. I was able to track down a company from Austin, Texas, that traveled around the country showing movies where they were filmed. It turns out, the company had us on the shortlist and were about to contact us! It wasn't much longer after making that connection that I read in the local newspaper that I was the chairman of the event. I learned then that you have to be careful in these small towns, or you will get signed up without knowing about it!
One of the first fans I met that I took around town was a young woman from Japan. She came here only to see where the movie was filmed. She was staying at a local B&B. I took her around to all the locations and left her at our local museum where she was watching the movie in our small theater…all by herself! She shared later that watching the movie right here, after our tour, was really special to her.
I got a call once from another B&B that two young ladies were staying there and wanted a tour if they could get one. So, I met them for breakfast, then put them in my car. I had the movie soundtrack playing and they were singing along. As we made our stops, these two friends would recite from the script, depending on where we were. It was so much fun!
A few years later, I had a gentleman from Australia notify me that he was coming to Brownsville. The day he was here I was setting up a special display of photos, etc. that I had collected of the filming of the movie. I thought maybe he would be interested in helping me, but he kept walking out the door and standing there. He came inside one time and said, "So many scenes were filmed from right at this location." He stood and gazed in awe. I decided the display could wait and asked if he wanted to walk around. When we got to one location where the characters "Chris" and "Gordie" had walked in the movie, he stopped, put his hand on a post, and said aloud, but to himself, "I have waited a long time to touch this post". He truly was touched by being at the same location as his favorite movie. I will never forget that moment.
A few years ago another young woman from Japan had arranged to stay in Eugene and hired a translator, who is also a fan and who I had already met. We arranged for them to come to Brownsville on a certain day. I could just tell that being here was really special for her. I had gotten permission from the homeowner at what was "Gordie's" house in the movie, to bring her by. The scene that filmed there was in the backyard. It turns out, the owner invited us inside. He cleaned off his kitchen counter and found a stepladder so she could climb up and look out the window like "Gordie" did when he asked his folks about his canteen. The translator took her picture from outside, just like in the film. The translator had taken her to other locations in Cottage Grove and Veneta, so this was her last stop. Because she flew here from Japan to only see the filming locations of "Stand By Me" and nothing else, he took her back to Eugene by way of the McKenzie Highway, so at least she could see some of the natural beauty of our state.
When we have our events honoring the movie, we find that many of the fans come from out of the area. They fly in from other states, and a number of them fly in from foreign countries! It is fascinating to talk to some of these fans and learn about their intense fascination with a movie made so long ago. Even though we have an event once a year, fans come to see the locations all year round. Many of our locals will greet them as they pass in the street. It is usually pretty easy to recognize a fan because they are taking photos of iconic spots along the way. Some of us will offer to take their picture so everyone in the group can be in it.
I have met so many fans from so many places. There is no way to describe how touching it is to meet so many kind and appreciative people. This movie created a fan base of people who were affected by the story, and surprisingly are of all age groups!
The thought of fans of Oregon made movies to be able to follow a map on the Oregon Film Trail to see where exactly the movies were filmed is exciting. There is a growing trend of this turning into a hobby nationwide. One of the first "Stand By Me" fans I met had traveled around the country looking for scene locations and planned on creating a coffee table book of his adventures, then he became an actor himself! The Oregon Film Trail will only help the tourist industry and the movie industry in Oregon. I am so glad that the movie "Stand By Me" and Brownsville was at the front of the line on this project!
This movie is here to stay, and having us on the Oregon Film Trail with three of their signs posted, means it will be special for a long time to come."
Barbara Andersen at the Linn County Historical Museum in Brownsville, reports that the museum, "has long been the center of info for fans of the movie but since the Linn County Museum Friends took on sponsorship of the annual Stand By Me Day celebration several years ago, the impact to the museum has been even greater.
We have fans who arrive all year long looking for tidbits and stories from the locals. The movie draws fans from all over the world, some stop and tell their stories, others just stop in for the walking tour.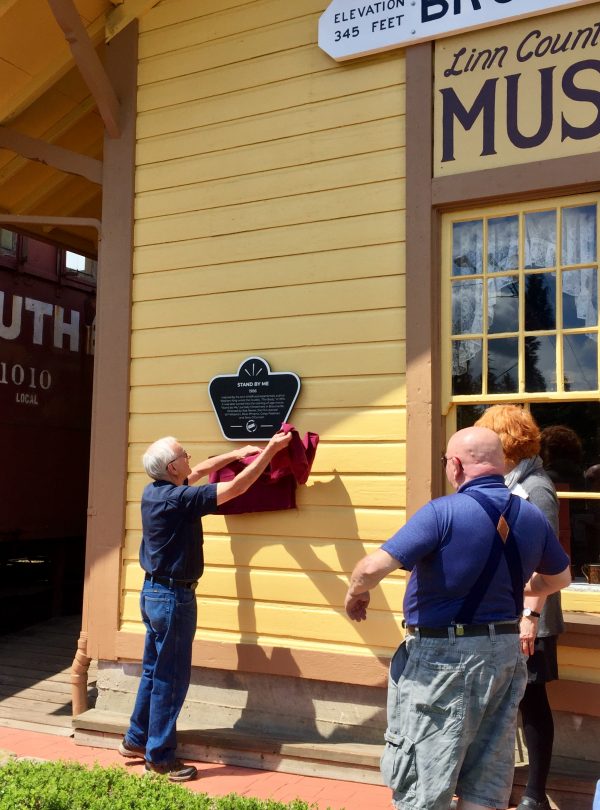 We had two young men who came from England, one showed us the tattoo of the poster picture on his forearm. A visitor from Japan told us he had just graduated from Medical school and was taking a trip around the world before starting his practice…first stop Brownsville, for all he could learn about the movie. He planned to visit all the locations he could find…we showed him maps. One year a man from Scotland was given the trip to Stand By Me Day for his 40th birthday by his wife and 2 sons! He had a blast at the Pie Eating Contest!
The museum keeps a stock of SBM t-shirts and other fun souvenirs for the fans to share with those back home. We are also able to show the Movie in our mini-theater in a boxcar whenever anyone wants to watch it.
Since the Museum has become so deeply involved we are planning to create a permanent exhibit in the museum, even though our primary focus is Pioneer history. We are now in search of any artifacts, mementos, photos, or good stories from people involved or around during the filming. Have any, we'd love to hear from you!
One thing we can say for sure is that the fans of this beloved movie are some of the nicest people we have ever met. They are always a pleasure to encounter, whether in the museum or walking the streets of Brownsville with a tour map in their hands!
Stand By Me Day 2021: The organizers are working on plans for next year's Stand By Me Day, but are challenged with the unknown during the pandemic. They are trying to find ways to meet the standards and still make it special. It is probable that they will at least show the movie in the park, where fans can appropriately distance themselves from each other."
Stand By Me Day takes place every July 23rd and is sponsored by the Linn County Historical Museum. The event brings fans from all around the world and the country most represented throughout the year is Japan.
#OregonMade #OregonFilmTrail