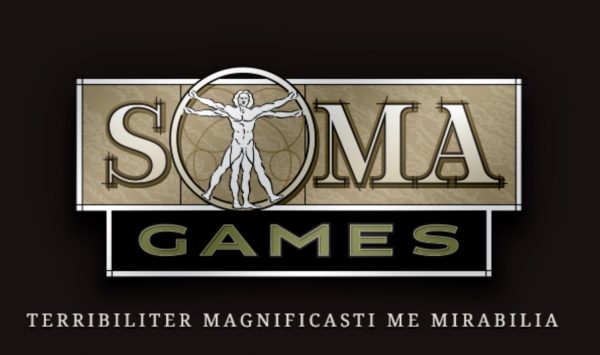 Soma Games LLC is an indie video game developer located in Newberg, Oregon. We believe video games can be far more than time-wasters. Video games hold the potential to showcase beauty, reward adventure and excellence, and challenge thinking. Our goal is to passionately and dutifully craft the games that elevate humanity rather than waste it. To learn more, check out our 
website
.
JAMES MARANTETTE 
James is likely the loudest person on our team. He isn't loud himself, but as our sound designer, composer, and all-around audio guy, he makes a lot of noise. James joined our team about two years ago, and having a full-time, dedicated composer and sound effects guru has been awesome! James is married to our Art Director, Erin Marantette, who he references below. Erin's interview will be coming soon.
Question: What's your favorite part of working for Soma?
The culture here. Co-workers make or break a job experience and I am lucky to be surrounded by talented, fun, kind individuals who encourage and challenge each other. That, and our studio makes an effort to maintain a healthy work-life balance. Those two parts make a culture that staves off a lot of the typical industry stress.
Question: What do you like to do in your free time?
Well, I play a lot of games…. Off and on I'll GM DnD campaigns that my wife and I will host at our place. We have family board game nights, and I keep up with some old friends by playing online a few nights a week. My wife and I play games together a lot too. When the weather gets better I enjoy riding my motorcycle around the beautiful northwest but the older I get the less exciting that hobby becomes… funny how that works.
Question: What's been one of your biggest accomplishments (personally or professionally)?
[The] cheesy answer is marrying someone who's become my best friend. That's not really something I can claim accomplishment over… more luck and compatibility working in our favor. But that's a gift that keeps on giving and eases most of the pressures of life.

I would say working on audio full time is the biggest accomplishment. Something that actually required long hours of work, pushing for meetings, connecting with people in the industry, and keeping at it for nearly a decade. I've got a lot of space to refine my craft, but it feels good to be getting paid to do that now.
Question: How do you want people to remember you?
I hope some music I've written will be remembered… [the] experiences that music helped make.
Question: What's your personal motto? Or, what three words best describe you?
"Teamwork makes the dream work."
Question: What's a goal you have for this year?
I really want to write something choral. So I firstly hope that the opportunity works out, and then that I'm able to get something that fits within the world we're building upon. I also want to get the 4k badge in Apex… so we'll see about that.
Question: If you could create a custom ice cream flavor, what would it be? 
I don't really care about the flavor… It just needs to have a lot of caffeine.
If you enjoyed this Q&A about James, check out this interview with James regarding music and sound composition for our The Lost Legends of Redwall™ video games.
If you want to check out the soundtracks James created for our currently published video games, look for The Lost Legends of Redwall™: The Scout Act I Soundtrack and The Lost Legends of Redwall™: Escape the Gloomer Soundtrack wherever musical is digitally sold. For this month of May, we will donate $1 from each qualifying purchase to support Newberg, Oregon food pantries that are helping many families overcome food insecurity, especially during our global COVID-19 crisis. To qualify, send [email protected] a copy of your purchase confirmation of one of these two soundtracks with the subject line "Music makes a difference."