Support your favorite local restaurant and help promote a unique experience that will raise money for restaurants who are serving meals to our frontline heroes and to those with food insecurity. Take part in Takeout And A Movie, virtually, on Saturday, May 9th!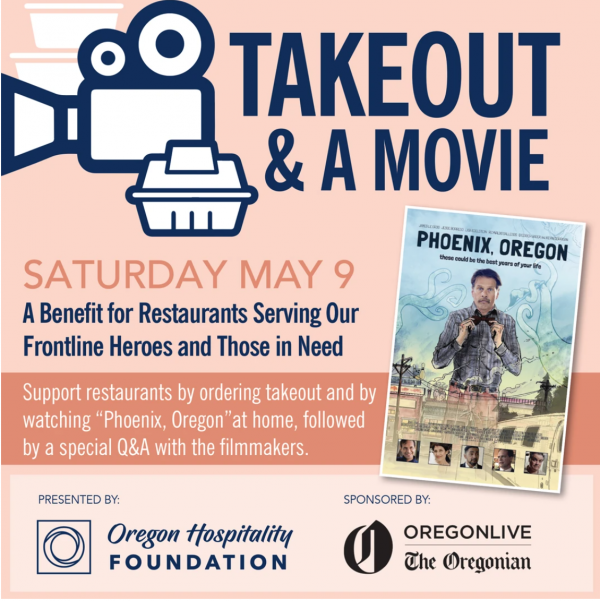 This is an opportunity to stream a fun and inspiring local movie, PHOENIX OREGON, and support a charitable fund for the hospitality industry.
Takeout And A Movie #TakeoutAndAMovie #HospitalityHelpFund
About the movie Variety says "To put it simply–and, yes, gratefully–Phoenix, Oregon is the sort of movie a lot of us need right now."
May 9th, 2020 at 5pm followed by a live Q&A with cast and crew at 7pm . Viewing is also available anytime from May 8th-May 12th
There are Triple Benefits!
Promote restaurants who remain open and are providing takeout/delivery options
Provide money to restaurants who are providing meals to front line heroes and to those facing food insecurity
"Share" a meaningful and fun virtual event while also supporting Oregon filmmakers and the restaurant industry  
Go to PhoenixOregonMovie.com/takeout to purchase your $6.50 ticket and access simple instructions for streaming on any device either on Saturday, May 9th at 5:00 pm, or anytime throughout the weekend.
Invite friends and family to join-virtually!
Order your perfect movie takeout meal from your favorite spot.
Sit back, relax, and get ready for an inspiring and fun evening, enjoyed together virtually, with others across the state.
Share a photo of your evening together at #TakeOutAndAMovie and #HospitalityHelpFund
Other ways you can help:
REFERRAL
If you know of a restaurant in your region who is doing philanthropic work they may be eligible to apply for funding . Please refer them to https://www.oregonrla.org/takeoutapp.html
Let your local favorite restaurant know that they can benefit too! We seek to build statewide momentum with this campaign by driving business to local restaurants who are offering takeout/delivery. In turn, we are asking them to promote the event to their own local customers.  In conjunction, soon, operating restaurants will be able to a get a free listing on a new searchable statewide map that will be a great tool both locally, and as travel resumes.
PROMOTION
You can provide key support by sharing with your professional and personal networks.
JOIN US!
I hope that everyone will buy a ticket and/or donate to the Hospitality Help Fund! (All direct donations to the foundation may be tax deductible via our 501c3 nonprofit foundation status, please consult a tax advisor.)
Direct Beneficiaries    The filmmakers are evenly sharing ticket sales with the Oregon Hospitality Foundation (OHF ).  100% of the proceeds received by OHF will be awarded to restaurants throughout the state who apply and meet established criteria of serving meals to those in need.  OHF is donating $10,000 to launch this fund.
About the Movie
The Lundgrens' movie is about two friends, a graphic novelist and a chef, who defy a midlife haze by seizing an unlikely opportunity to reinvent their lives by quitting their jobs to restore an old bowling alley and serve the "world's greatest pizza."  For foodies and those who just enjoy dining out, Jesse Borrego's portrayal of chef character Carlos poignantly illustrates the passion that chefs have for food and their desire to create community around the table.  For all of us needing a boost during this uncertain time, the story of how the two find the courage and resilience to take new risks and keep their dreams alive is inspiring, as well as humorous. The timing of the film's release is uncanny as an analogy to the phrase "like rising like a Phoenix from the ashes".
The film stars an impressive lineup of indie film stalwarts and comedy favorites including James Le Gros (DRUGSTORE COWBOY, LIVING. IN OBLIVION), Lisa Edelstein ("House"), Jesse Borrego ("Fame," BLOOD IN BLOOD OUT), Reynaldo Gallegos (AMERICAN SNIPER), Diedrich Bader (NAPOLEON DYNAMITE, OFFICE SPACEN, "Veep"), and Kevin Corrigan (THE DEPARTED, PINEAPPLE EXPRESS, TRUE ROMANCE).
For more about the movie, including a trailer, go to https://phoenixoregonmovie.com/takeout