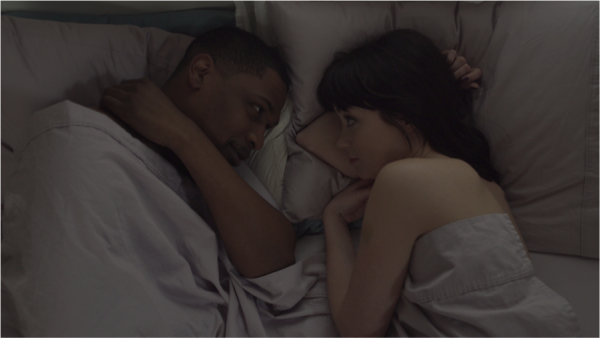 The#OregonMade Creative Foundation alongside the Northwest Film Center, the Hollywood Theatre, the Clinton Street Theater, and Cinema 21 announce the first film selected for a unique theatrical distribution program for locally produced feature films.
The Portland Circuit, a collaboration between the #OregonMade Creative Foundation, the Northwest Film Center, the Hollywood Theatre, the Clinton St. Theater, and Cinema 21, has been created to provide a local theatrical run for #OregonMade feature films. This initial pilot program will select feature-length films and allow them to have a paying audience screening in four of the most dynamically programmed independent theaters in Portland.  The first screening was at the Hollywood Theatre and we are happy to report it was sold out!
The "theatrical runs" consists of a four day, theatrical screening in each of the participating theaters (each on separate days). The first run began October 1st, 2018 and the second run of a different, still-to-be-named feature film, will follow in February 2019.
The sixth feature film from director Jon Garcia, "Sex Weather," has been selected as the inaugural Portland Circuit project.
The morning after the premiere his new film, a sleepy-eyed Darrel, played by Al'Jaleel McGhee, wakes to find himself in bed with his crew member Syndey, played by Amber Stonebraker. As they begin to discuss the previous evening and tepid reviews of the film, emotions give rise to a passionate and thoughtful relationship that once could have been if either had taken the chance. Filmed almost entirely in a small studio bedroom, actors McGhee and Stonebraker give stand out performances that guide the audience through tumultuous regrets and hopeful futures, while trying not to step on a fake lava floor.
Director Jon Garcia and crew members will be in attendance for a question and answer following all of the screenings.  The film will be distributed by Breaking Glass Pictures. The DVD/VOD will be available November 27, 2018.
Check out KPTV's piece on the Portland Circuit here.
This program was the long gestating brainchild of the Northwest Film Center's regional programmer Ben Popp who, along with Oregon Film's Executive Director Tim Williams, sought to find a way to give locally produced features a short run in an established venue at no cost to the filmmaker. Through their collective work with filmmakers in the region, both Popp and Williams know first-hand how much talent there is creating content here in Oregon. However, there is always a struggle for that content to find any lasting way to generate an in-person audience outside of the area's film festivals.
The four participating theaters have a long history of supporting local talent in all forms but this is the first time all four theaters are working on a coordinated screening schedule for a single film. Doug Whyte (Hollywood Theatre), Lani Jo Leigh (Clinton Street Theatre) and Tom Ranieri (Cinema 21) were quick to support the initial plan as proposed by Popp and a separate programming committee came together to gather and select the first films to be screened.
Screenings of "Sex Weather" will be held :
Monday 10/1/18 – Hollywood Theater  Sold Out!
Tuesday 10/2/18 – Whitsell Auditorium
Wednesday 10/3/18 – Cinema 21
Thursday 10/4/18 – Clinton Street Theater
Tickets are $9 and can be booked directly through each theatre (links embedded above). All screenings start at 7pm.
Other contributing partners in this program include Lower Boom, Lawrence Public Relations, Portland Oregon Women's Film Festival (POW Film Fest) and Oregon Film.
(photo credit: © Breaking Glass Pictures)
About the Oregon Made Creative Foundation
#OregonMade Creative Foundation was initially created by Oregon Film in partnership with the Charitable Partnership Fund (a 501[c][3]). It operates as a stand alone non-profit foundation focused on providing opportunity and grants for a diverse group of #OregonMade creators. To date the OMCF has awarded several grants and apprenticeships including "Our Trails Too" a documentary currently in production by Liz Haan and Emilia Quinton done in partnership with Travel Oregon and Danner Boots; two apprentice animators and fabricators placed on ShadowMachine's upcoming stop-motion series for Adult Swim "The Shivering Truth;" the second annual Playa Screenwriters Residency Award in conjunction with Playa Summer Lake and the Northwest Film Center and it is currently working with the Portland Film Office and Prosper Portland on a Post-Production Film Grant. More information can be found at OregonMade.org.
About the Northwest Film Center
The Northwest Film Center is a regional media arts organization founded in 1971 to encourage the study, appreciation, and utilization of the moving image arts, foster their artistic and professional excellence, and help create a climate in which they may flourish.
The oldest media arts organization in the Northwest, the Center's activities include year- round exhibition programs, classes and workshops for adults and youth, community-based media artist residency programs, and artist services including low-cost equipment access and the Oregon Media Arts Fellowship. In all, the Center serves 80,000 people annually.
The Center provides a creative space for individuals to cultivate their voices and for audiences to explore the region, the world, and the art of film. Through mutually supportive relationships, regional filmmakers are supported as artists, educators, mentors, and community leaders, strengthening cinema's place in the creative, social, and economic sectors of the community.
About Breaking Glass Pictures
Breaking Glass Pictures is a film distribution and media company that focuses on releasing unique and visionary independent films, inclusive of all genres, from around the world. In addition to theatrical, DVD, digital, and Video-on-Demand releases in North America, Breaking Glass functions as an international sales agent in all film markets, a producer of compelling independent cinema, facilitates festival, theatrical, and special event bookings, and offers a full-service marketing team (marketing strategy, artwork and trailer creation, PR, social media) to independent filmmakers.
About Lawrence Public Relations
Lawrence PR provides everything from strategic counsel and media relations to crisis planning and media training, meeting all of your communication needs. The mediums may have changed but the strategy remains the same – engage with your target customers and clients in a meaningful way, over and over. It's really that simple.
About Lower Boom
Lower Boom is both laboratory and launchpad, working to create new models and markets for storytellers worldwide. Current projects include a Diversity and Inclusion Initiative to create opportunities for Television and Film writers. More info at lowerboom.com/diversity
About POW Film Fest
POW Film Fest is Portland's premiere film festival showcasing films directed by women. In it's 11th year, the festival features the work of some of today's top women directors, while honoring the true pioneers and recognizing the next generation of leading women filmmakers. We also provide space to strengthen the Portland community of women in film by offering year round film workshops for girls and non-binary youth ages 15 -19 with our POWGirls program.
About Oregon Film
Oregon Film's mission is to promote, support and advance the film, video, interactive, animation and creative content industries within the state by fostering connections between production, business and public sectors, and strengthening the industry's profile and reputation locally, nationally and internationally.