LA GRANDE – Eastern Oregon Film Festival invites you to visit La Grande, Oregon for the ninth annual Eastern Oregon Film Festival held October 18-20 in downtown La Grande. The intimate gathering will feature twelve film screening blocks, both feature-length and short format across multiple genres, held at The Granada Theatre and EOFF's own creative mixed-use space, hq, along with three evenings of after party showcasing emerging musical talent. Additionally, an Online Program consisting of 14 films—exclusively available to watch at Filmmaker Magazine's website
#EOFF2018 will open with director Bridey Elliot's hilariously-spooky debut feature CLARA'S GHOST, in which she cast her entire family to play its dysfunctional protagonists.
"Clara's Ghost is brilliant in the way it negotiates the hysterical and the quite tragic, the claustrophobic and the warm."
– The Playlist
Friday night will wrap up with newcomer Erik Bloomquist's unsettling, psycho-horror drama LONG LOST about two brothers meeting for the first time. The final screening and closing night feature is none other than EOFF Alumni and community favorite Jim Cummings' heartfelt comedy about a cop who loved his mom and hailed as a "A visual tour de force" by RollingStone, THUNDER ROAD!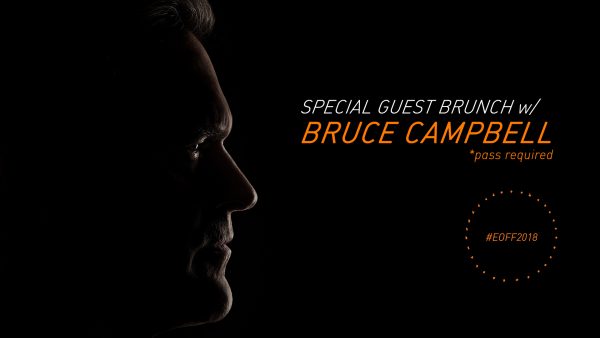 Get bright-eyed and bushy-tailed with the recently retired cult classic demon destroyer of The Evil Dead. Bruce Campbell will join festival-goers for an intimate talk and discussion Saturday, October 20. Campbell, an Oregonian since 1998 has been involved in the film industry for nearly 40 years. Mr. Campbell will share insight from his dynamic career and how technology and distribution mechanisms have impacted the business and craft of independent film.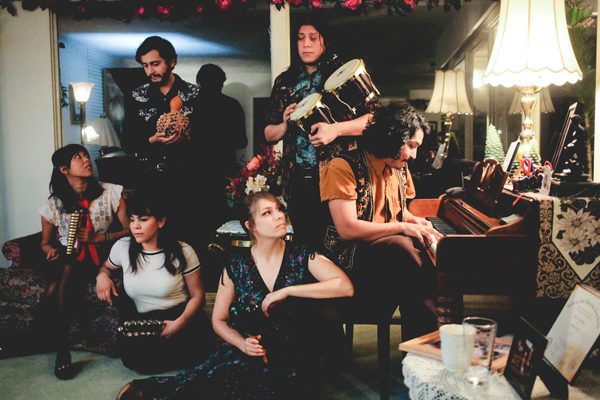 Friday night, October 19, catch MÁSCARAS the psychedelic instrumental trio of Papi Fimbres, Carlos Segovia, and Theo Craig. It's a jam with themes that become "songs" that live and breathe, leaving room for the unexpected. Each performance is a ritual to which you are invited. Opening the night will be HEALING GEMS (photo above) from Los Angeles, CA.
"They're a drink of LSD-tainted punch at a small town dance. A pot brownie picnic at a community park. Scratchy bargain basement records that still surge fire. The type of band one might listen to while traversing a hot desert landscape with rainbow-laden sun showers pouring down upon your skin. No drugs required."
– SHOUT NOTE (Healing Gems).
The closing night after-party, Saturday, October 20 will feature Boise's SUN BLOOD STORIES. This trio is a mass of harmonic noise distilled into occasionally delicate, but always haunting songs. The band is comprised of three (3) equal members: Amber Pollard, Ben Kirby, and Jon Fust; this current arrangement is the realization of a sedulous refining process that has guided them into trio form. Sun Blood Stories is dreamy, aware, personal, open, fuzzed out, and loud af.
Following will be exactly what is needed after three days of intense and thoughtful independent film and late night wanderlust, CHANTI DARLING (Portland, Oregon) would like you to know that "RNB ain't no joke." The group drinks from the sacred founts of Disco, Boogie Funk, and the dizzying universe of house music. Teasing out the essential filaments, the act weaves a sound that nods to the past as it blasts into the future; urgent, irresistible, and absolutely of the moment.
All festival after parties will commence after the final feature film each evening and will be held at festival hq (112 Depot Street). Members and Pass Holders are in for free, $10.00 per night cover at the door.
Complete program details, movie trailers, and Festival Passes available to purchase online at eofilmfest.com. Socially @eofilmfest.
XXOO