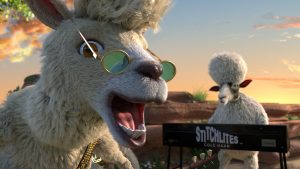 September 25, 2018 – Cole Haan, the innovative American lifestyle brand and retailer, releases ZERØGRAND with Stitchlite™ Wool — the newest style transforming the familiar to extraordinary this Fall.
Cole Haan continues to push boundaries with ZERØGRAND with Stitchlite™ Wool, the next iteration of ZERØGRAND footwear for men and women. Like a sweater for your feet, the ZERØGRAND with Stitchlite™ Wool was designed to keep feet dry and warm throughout the colder months, making it the ultimate thermal, breathable and flexible shoe that will last all season long.
"We are absolutely thrilled to introduce the ZERØGRAND with Stitchlite™ Wool," said David Maddocks, Chief Marketing Officer & General Manager of Business Development at Cole Haan. "To make an even bigger splash, we have chosen to collaborate on an animated video to bring the idea to life in a way that showcases our personality and sense of humor. This is one of those projects that makes you enjoy the work you do and the people with whom you work."
To add to the excitement surrounding the launch of ZERØGRAND with Stitchlite™ Wool, Cole Haan teamed up with animation company HouseSpecial to collaborate on an extraordinary video that brings Stitchlite™ Wool to life. Well-known for creating some of the most-recognized animated content in the world, HouseSpecial's ability to design for motion and to develop iconic characters has attracted clients like Sony, Target, Apple, Honda and now Cole Haan.
"These are the types of collaborations we revel in – a creative, forward-thinking client with a sense of humor, a firm grasp on who they are and aren't afraid to have fun with their brand as they engage fans with the unexpected," said Lourri Hammack, founding partner and EP at HouseSpecial.
Co-directed by Kirk Kelley and Mark Gustafson, the directing duo collaborated closely with Cole Haan on the light-hearted, playful video that brings the ZERØGRAND with Stitchlite™ Wool collection to life with an entertaining performance put on by sheep and alpacas in a pasture jamming out to Domingo "Sam The Sham" Samudio's 1965 hit "Wooly Bully." Cole Haan licensed the original recording for the video.
Kelley, HouseSpecial founding partner and ECD whose animation direction skills shine in M&M's 2018 Super Bowl spot with Danny DeVito explains, "The best part of the process is visualizing how the whole thing might work. Taking interesting bits and pieces…whether trees or rocks on a hillside or the way a sheep chews…and then digitally synthesizing the hundreds of elements into a beautiful visual story. Of course it doesn't hurt that the whole idea of sheep wearing shoes and forming a band is a bit absurd."
Gustafson, who was Animation Director on Wes Anderson's Fantastic Mr Fox, had this to say about the collaboration, "A large part of the joy of making this film was collaborating with the folks at Cole Haan who trusted us and the story enough to let it sing for itself. My only regret is that I exhausted all my sheep puns in the first week of production. Baaaad news."
Featuring innovative fabrication, the ZERØGRAND with Stitchlite™ Wool offers functional, thermal properties that provide natural insulation when the temperatures begin to drop. The dual-gender Oxford (and Chukka for men) integrates a premium wool blend that provides a combination of moisture wicking, odor control, breathability, and dynamic fit. These upgraded and innovative properties provide ongoing comfort for anyone who is working, moving, or exploring, and for everywhere in between.
The style's zonally-engineered upper moves with the natural motion of the foot, providing flexibility and fit. The one-piece knitted upper wicks away moisture while simultaneously allowing air in for all-day breathability and comfort.
All styles in the collection are equipped with Cole Haan's GRAND.ØS technology, which is crafted specifically for an on-the-go lifestyle, with emphasis on flexibility, cushioning, and anatomical fit.
The ZERØGRAND with Stitchlite™ Wool collection is available on www.ColeHaan.com and in US and international Cole Haan Stores. The men's and women's ZERØGRAND with Stitchlite™ Wool collection ranges from $150 – $250.
CREDITS:
Animation Production: HouseSpecial
Co-Directors: Kirk Kelley, Mark Gustafson
Creative Director: Kirk Kelley
Executive Producer: Lourri Hammack
Producer: Julie Ragland
Editor: Cam Williams
Flame Artist: Rex Carter
DESIGN
Character Design: Gordon Clark, Aaron Sorenson
Production Design: Daniel Cacoualt, Stephen Bodin
Storyboard Artist: Tyler Turett
Illustration: Alan Long
CG
Animation: Greg Kyle, Chris Ohlgren, Beavan Blocker
Lead TD: Patrick Van Pelt
Art Direction: Dan Casey
Modeling: Adam Rosenzweig, Josh Tonnessen, Chris Tran
Surfacing: Adam Rosenzweig, Mikey Rogers
Lighting: Clay Connally, Matt Reslier
Rigging: Ramiro Gomez, Terence Jacobson
Fur + Grooming: Patrick Van Pelt
Set Dressing: Karl Richter
Nuke Compositing: John Corbett
PRODUCTION SUPPORT
Production Assistant : Alex Webster
POST PRODUCTION
Media Tech.Editorial Support: Hamilton Barrett
Editorial | Post Manager: Cam Williams
MUSIC
Wooly Bully by Sam The Sham & The Pharaos
SOUND
Sound Design.Final Mix: Lance Limbocker
Cole Haan
NY, NY
Chief Marketing Officer: David Maddocks
Website: housespecial.com
Twitter: @housespecialpdx
Facebook: https://www.facebook.com/HOUSEspecialPDX
Instagram: @housespecialpdx
PR Contact:
Alise Munson, HouseSpecial
503.276.0110
420 NE 9th Ave. Portland, OR 97232