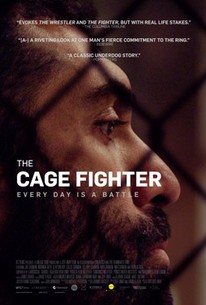 For your consideration – a NW documentary from Seattle based filmmaker Jeff Unay that explores the dramatic "real life Rocky" struggle of Seattle MMA fighter Joe Carman.  A rare Portland screening brings this well reviewed and well traveled doco (which saw theatrical release after making the rounds at the Bend Film Fest among others) to the NW Film Center/Whitsell auditorium, May 10th at 7pm.  Unay will be in attendance!
In the supporting cast on this film is the unsung yet unprecedented (for a documentary) visual effects work, pairing a savvy VFX-aware director with local Portland VFX startup Sprocketship.  Unay, a former visual effects artist and modeler known for his work on King Kong and Avatar, was well aware of how careful VFX could provide support in all the right places. Even on a documentary film!  Sprocketship completed over 100 shots;  some of the invisible and undetectable variety, others very visible and very much in the foreground.  Yet always seamlessly executed.
Come see what the buzz is about for this unique verité style doco.  Tickets and more information available here.  Trailer and website here.