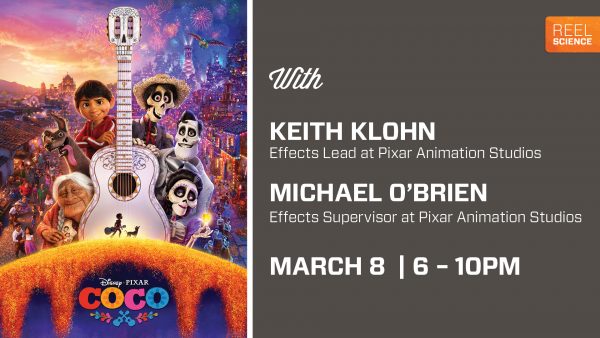 VFX/PDX and OMSI are teaming to bring you a can't miss night of Reel Science, taking us behind the scenes of Pixar's Coco.
Sponsored by SideFX, Pixar Animation Studios FX Supervisor Michael O'Brien and FX Lead Keith Klohn will be live in-person, navigating us through the challenges met during production. Pixar's workflow and innovation will be on full display, highlighting their FX setups and the power of SideFX Houdini in their toolset. These are behind the scenes "dvd extras" and untold stories from the trenches that you'll never see anywhere else! We are lucky to have Michael and Keith take the time out from other projects and a busy awards season.
Speaking of awards, we'll open this event with a few words from local design shop The Other House, detailing their tasty FX work completed for this year's Emmys award show. Always good to have some local flavor involved and beautiful imagery created for the Emmys should set the stage for Pixar well!
A screening of Coco will follow the presentation. This event is open to all ages, so feel free to bring your future 3D artist and filmmaker children!
Thanks again to sponsors SideFX, OMSI, Sprocketship, 3DV, The Other House, 9iFX, and Minimal Massive.
Don't miss this truly unique chance to catch some of the Coco team right here in Portland. Thursday, March 8 (doors at 6pm) at OMSI's Empirical Theater. Get your tickets now, here!