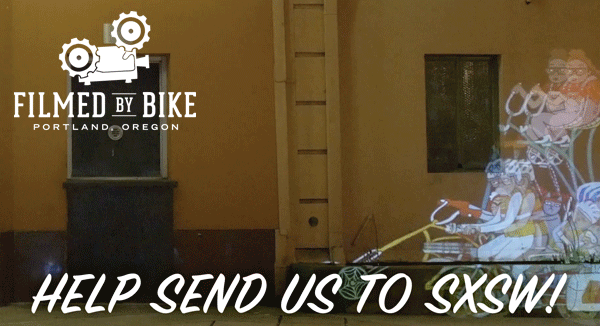 The Filmed by Bike film festival was started in 2003 as a way to get people excited about bikes and to celebrate the creative Portland bike community. Founder and Director Ayleen Crotty says she never imagined the festival would grow to where it is today with film submissions from all over the world.
Now, in its 16th year, the festival is headed to SXSW in Austin this March.
A Popup at SXSW
Filmed by Bike will be hosting a popup event in the heart of SXSW to share a bit of bike culture with the 72,000 attendees of this expansive event, with a side goal of exporting little PDX style.
As a niche film festival, Filmed by Bike says they don't have the budget for this large scale endeavor. That's why they launched a crowdfunding campaign to raise the funds necessary to make the project a reality.
You can read more and make a donation on their Indiegogo fundraising page.
About Filmed by Bike
Filmed by Bike features the world's best bicycle-themed movies. Every May in Portland they host a film festival weekend at the Hollywood Theatre. Their movie collections then tour worldwide throughout the year with more than 30 tour dates in the works for 2018.
Many of the touring shows are hosted as fundraisers for non-profit organizations, similar to the model of the Banff Film Fest.
The 2018 festival is May 4-6 and the Launch Party is March 1 at NW Documentary.