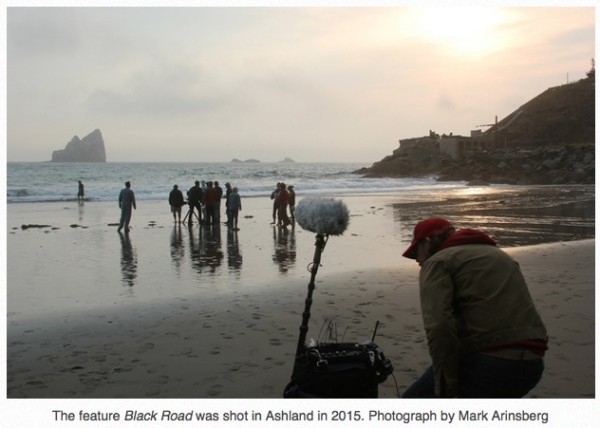 Ashland is MovieMaker's #5 in the magazine's "Best Places To Live and Work as a MovieMaker 2016: Top 10 Small Cities and Towns".
This is what MovieMaker had to say about Ashland: " The great Pacific Northwest… my, how screenwriters, directors and cinematographers love you. While Vancouver, Portland and Seattle battle for the blockbuster flicks and moody TV shows, this scenic, low-key small town in Oregon of around 20,000 people keeps building a hearty film community.
Ashland is unusually dedicated to the arts. There's a bustling culinary scene, a no-big box store policy (and no state sales tax!), film festivals, independent theaters and a super-supportive film organization called the Southern Oregon Film and Media (SOFaM). SOFaM was awarded a $10,000 economic development grant in June 2015, up from $7,700 the year prior, to continue to support its 200-plus members.
Southern Oregon University in Ashland offers film and media degrees, and the Southern Oregon Digital Media Center provides continuing education and training programs through their producer's certification program. The Ashland Middle and High Schools offer several media courses. With this many film education programs in one place, you'd almost think Ashland has a master plan to groom the world's next generation of hitmakers.
If you weren't already charmed by a town that hosts a chocolate festival, an Innovators Conference, the Oregon Shakespeare Festival and summer-long outdoor free series of music and dance, you might like its 93 acres of forested canyonland or its 785 acres of parkland. Plus, Ashland's sandwiched between San Francisco and Portland, so you'll never be out of touch with big city life.
Filmmakers Gary and Anne Lundgren are currently working on their feature Black Road. They first stumbled upon Ashland in 2007 for a shoot, then moved in. "The residents are very supportive of film," says Gary. "It's an easy place to shoot in terms of permitting and getting around—no traffic. There are film pros working here who are very friendly and approachable, like Bruce Campbell and Alex Cox. It's a tough, competitive business wherever you go, but in Ashland it all feels more accessible. There aren't many egos here, and there's enough opportunity that any ambition and talent will go a long way."
Ashland beat out Providence, Pittsburg, Richmond (VA), Shreveport-Bossier, and Orlando, and was behind Savannah, New Orleans, Baton Rouge, Santa Fe.  Last year Ashland was #1 in the Top 5 Towns list.