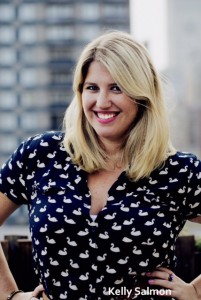 JULY 28, 2015 (PORTLAND, ORE) Animated content production studio HouseSpecial (formerly LAIKA/house) President Lourri Hammack announced a new partnership with Kelly Salmon, owner of the independent New York-based repping firm Hunt & Gather, for Northeast representation for all animated content.
Ms. Hammack: "When Gerard Cantor of Joinery spoke highly of Kelly and then quickly signed to her roster, I knew he was onto something special. Upon meeting Kelly, I understood his enthusiasm and we quickly joined forces. Kelly's delightful style marries wisdom born from experience with a love of production—and she has great taste buds to boot."
Before founding Hunt & Gather, Ms. Salmon cut her teeth at The Artists Company, Hungry Man, Believe and Curious Pictures as an Assistant Director and Production Manager. She made the switch to sales after being offered the opportunity to work with Jennifer Warren and with production companies Giraldi and IDENTITY. Most recently, Ms. Salmon held the position of Head of Sales at New York editorial house BlueRock.
Ms. Salmon: "My path to becoming a rep is a bit non-traditional, but it has made me appreciate and respect the time and dedication that goes into a project. I've had the pleasure of working with some of the finest producers, crew and agencies in advertising and I take those relationships and knowledge with me to be as resourceful as possible.
"I'm thrilled to join forces with the creative geniuses at HouseSpecial. Their honed talent of creating iconic characters and stellar reputation as brand stewards across all mediums is hard-earned and well deserved in the industry."
Recently HouseSpecial celebrated a successful first year anniversary following its spin-off from feature film studio LAIKA. The animation company's collaborations include creating multiple spots with Supercell and Barton F. Graf 9000 for the Boom Beach® CG-animated campaign, Planters® stop-motion spots out of TBWA\Chiat\Day NY and a Goodby, Silverstein & Partners stop-motion short for Häagen-Dazs®. The studio also gained notoriety this year with the award-winning CG short film A Tale of Momentum & Inertia, which found a second life as an advertising campaign for Indeed.com. Watch all the latest releases – http://www.housespecial.com/
For business inquires in the Northeast, contact Ms. Salmon at [email protected] or 917-622-0266.
About HouseSpecial: HouseSpecial, formerly LAIKA/house, can make anything move. We are animation experts. Our Portland studio's creative team is well known for its ability to integrate design and develop characters that push brand narratives beyond the expected for clients like M&M'S®, Sony, Jose Cuervo®, Target, Häagen-Dazs®, Planters®, Supercell and Honey Nut Cheerios™. HouseSpecial artists are guided by their infectious passion for storytelling and an obsession to bring wonder to every collaboration.
PR contact: Alise Munson – [email protected] 503.276.0110
"Animation isn't just a storytelling medium – it's our life force and our passion."