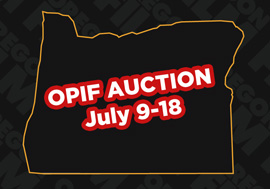 The 2014 OPIF Tax Credit Auction began Wednesday July 9 and continues through July 18.
The Oregon Department of Revenue is auctioning $10 million in OPIF tax credits.  This is the largest amount of tax credits we have auctioned off at a single time, so it is a great opportunity for more people to be able to have successful bids.

Bids can be placed through the online auction at the following link:
http://www.oregon.gov/dor/PERTAX/Pages/credit-auction-info.aspx
20,000 increments of $500 tax credit certificates are available.  Businesses and individuals with an Oregon income tax liability may bid on the certificates. The credit can be claimed on your 2014 tax return. Any amount that cannot be used on your 2014 tax return can be carried forward for up to three years.  The minimum bid is $475 per increment. 

Key points about the online auction:

•  The OPIF online auction began at 9 am Pacific Daylight Time (PDT) on Wednesday, July 9, 2014. It will end at 5 pm PDT on Friday July 18, 2014.
•  There will be $10 million in tax credit certificates available for the auction.
•  The credit certificates will be in $500 increments and the minimum bid will be $475.
•  Bidders must submit payment along with Form TCA by Friday, July 25, 2014 at 5 pm.
•  No bids will be accepted before or after the designated times.
•  Your payment must be a cashier's check, certified check, or money order made payable to Oregon Department of Revenue.
•  We must receive the form and your payment in a Department of Revenue office by 5 p.m. PDT, July 25, 2014.
If you have any questions about the OPIF tax credits or the auction process, please feel free to contact me via email ([email protected]) or phone (971)254-4020.
Nathan Cherrington
IT/Financial Manager