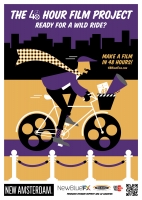 That's right — the original, biggest ,and best of the timed-base competition/festivals is back!
On August 1-3,, hundreds of the area's most daring and creative filmmakers will hit the streets of Portland to make a movie in 48 hours!  Write, shoot, edit and score a short film in 48 hours.  Will you be among them?  Register  your team at www.48hourfilm.com/portland_oregon
August 1-3;  Filmmaking:
August 6 & August 7;  World Premieres of All Completed Films:
August 20;  The Best of Portland:
All screenings at at the beautiful and historic Hollywood Theater.
The Portland winner will screen with other city winners from around the world at Filmapalooza, the big year-end event in Hollywood, CA.  Each year ten films travel to the Cannes Film Fest, including Portland's own Cinema Syndicate.
This year we have some great sponsors who are providing goodies and discounts for all who sign up.  New Blue FX is offering Post production plug-ins  for all team leaders as well as discounts on other packages, including color grading.  Lens Pro To Go  is offering discounts on production gear rentals and Pond5 is providing and $25 worth of production music from Pond5.
For any additional information, to volunteer, or for sponsorship opportunities, don't hesitate to contact Rob Hatch [email protected]