Oregon Media Production Association celebrates achievements of commercial, film, TV and interactive media production in Oregon at their annual meeting on Tuesday night. The meeting will be streamed live beginning at 7pm PST and running for one hour. The streaming link can be found on www.ompa.org or by searching Livestream.com.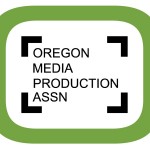 At OMPA's annual meeting the association will award Awards of Excellence in three categories, distribute over $4500 in student scholarship money and announce newly-elected members of the OMPA Board of Directors. Vince Porter of the Governor's Office of Film and Television will report on production in Oregon.
OMPA was founded by Oregon industry members over 30 years ago to promote the development of Oregon's production industry, and in response to contract abuse from out-of-state producers hiring Oregon freelancers. Since then OMPA has acted as an advocate in the interest of growing jobs and business opportunities through a variety of programs, some of which will be discussed at the annual meeting.
OMPA is supported by professional industry members statewide. Anyone who support the mission of growing jobs and business opportunities are welcome to participate with the trade association.
Ron Pestes HD Video is providing the video streaming services.