Director of last year's Cell Count makes new short film "M is for Marriage" to be considered as part of the ABC's of Death 2 anthology film.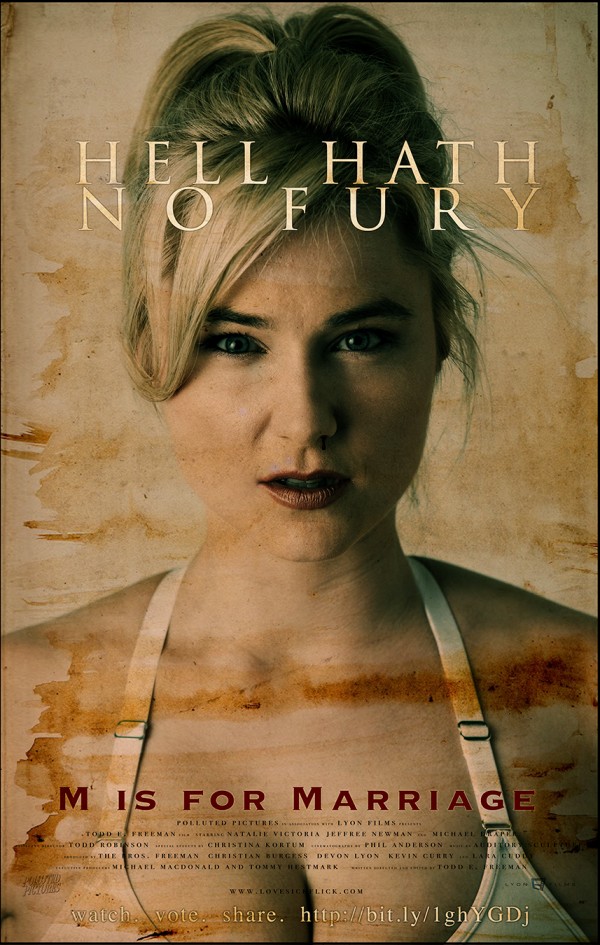 PORTLAND, Oregon (October 28, 2013)  Polluted Pictures (Cell Count) and Lyon Films (The Tell) are proud to announce their new film "M is for Marriage" is now available for viewing on the ABC's of Death 2 search for the 26th Director competition page.  The film is currently in 4th place in over 250+ entries from around the world.
"M is for Marriage is a peek into the world of our next feature film 'Love Sick,' writer and director Todd E. Freeman says.  "That being said, it never would have been made unless the competition to find the 26th director for ABC's of Death 2 had been announced at the exact time it was.   'Love Sick' is a very personal project that is based in a very real time in my life when I wasn't sure if I was going to be with the woman that I loved until the day I died.  On one hand this is very much an examination of love and the physical/emotional pain that comes from it.  On the other bigger hand… well… it's a badass gore filled monster movie."
"M is for Marriage" is about "Dr. Christian, who has been a therapist for 15 years, and is the foremost expert in the controversial field of Bio-Medical Psychotherapy.  His most recent case involves a husband and wife who are looking for either closure or a path back toward healing.  Their stress has hit a critical stage and must be confronted in what Dr. Christian calls a Bio-Transference session.  This 3 minute peek will show that session."
"M is for Marriage" stars Natalie Victoria (Deadheads) and Jeffree Newman.  Natalie says of the project, "As an actress, the intensity and emotional trauma of Louise's character was intriguing for me to explore and I was hooked after my first read.  Todd is such a strange visionary to work with too; his precision to every detail, his offbeat humor, his weird creativity that thinks beyond what you normally would, and his methodical pace in building this unsettling intensity yet engagement with the characters and audience – all at the same time.  It's like when you know a car crash is coming but you can't tear your eyes away from watching it happen.  Intense, irreverent, poignant, and vulnerable all tied together."
The competition decides the top 12 in two ways:  SIX will be chosen by PUBLIC VOTE and the other SIX will be selected via a panel of genre aficionados made up of ABCs OF DEATH producers Tim League and Ant Timpson, Associate Producer Ted Geoghegan, Horror-Movie-A-Day Founder and Badass Digest contributor Brian Collins, Entertainment Weekly Senior Editor Clark Collis, author Grady Hendrix, and Fangoria Managing Editor Michael Gingold.
This way, the top 12 finalists will be a combination of audience and judge selections. These lucky finalists will then go on to the final judging round, where the sequel"s 25 other directors – esteemed names such as Alex De La Iglesia, Bill Plympton, Vincenzo Natali, The Twisted Twins, and Julien Maury and Alexandre Bustillo – will select the final winner to be included in ABCs OF DEATH 2.
"M is for Marriage" is available for viewing HERE and includes Portuguese and Spanish subtitles for the genre fans in Latin America.  Vote for the film by clicking on the FB LIKE button above the video on the competition page.
Watch the Preview!