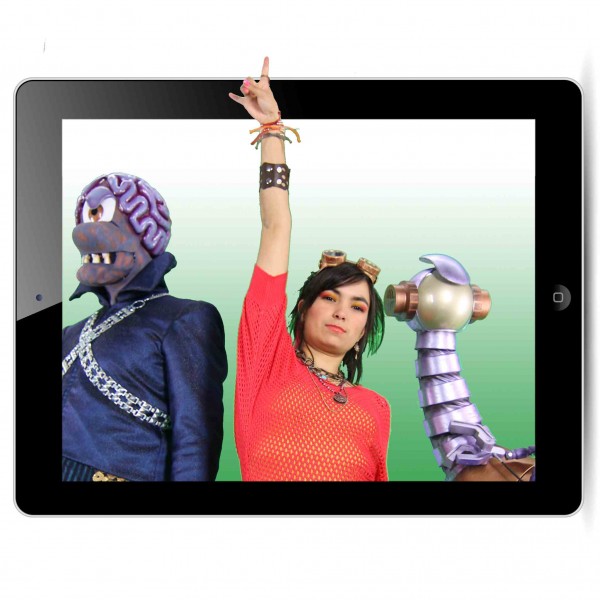 Portland Oregon, May 7, 2013 . . . Portland-based web series "The Digits" has recently joined forces with education icon PBS to offer educators a free teacher-tested math resource for their elementary school students. Created by Scotty Iseri, The Digits will be part of PBS LearningMedia beginning mid-April 2013 and will offer teachers ten appisodes (web episode that's also available as an app) of The Digits.
"I have been watching PBS from before I can remember so you can imagine how proud I am that PBS has acknowledged the educational value of The Digits," said Iseri. "The Digits has been in development for years, and this new partnership is the most important one we've secured so far. The Digits helps older kids learn math just like Sesame Street helps younger kids with their ABCs and 123s; using fun and practical situations requiring problem solving and I am thrilled for this content to be available to educators nationwide through PBS LearningMedia."
Now in its second season of filming, The Digits is available on YouTube for Schools and as an app on all tablet devices and phone platforms including iTunes, Amazon, Android and Kindle. In fact, The Digits was the #1 downloaded app on Kindle for two consecutive days in mid March.
"The Digits explains math concepts in a fun and engaging way for young learners and we're excited to offer this new content in PBS LearningMedia," said Tami Mount, Senior Content Director, PBS LearningMedia.  "It is important that we provide teacher-tested materials and access to high-quality digital media for the classrooms to fuel children's learning and interest in math and provide a transformative educational experience.
Unlike the majority of educational apps, The Digits was created under the guidance of a curriculum designer and implemented by a 20-year veteran schoolteacher. Iseri strives to address a slightly older age group than most educational apps, aimed at later elementary students (3rd-5th grade), which is a critical time in a child's development. This is the age when kids are making affinity choices and they're deciding who they are, what they like, and what they're good at, according to Iseri. It's also when math and science start to get more difficult; Math moves from simple arithmetic and into more abstract concepts like fractions, or geometry. "The Digits is a great rocket booster to middle school math as it lays the groundwork for higher-level mathematics," Iseri said.
Links and Social Media:
·       Teachers may register with their PBS account here: http://goo.gl/1eOzG
·       Comparing Discounts Appisode: http://goo.gl/czMDW
·       Symmetry with Jonathan Coulton Appisode: http://goo.gl/4i3si
·       Episodes of The Digits and weekly updates here: http://www.youtube.com/user/FUNDAWatch
·       Facebook: https://www.facebook.com/WeAreTheDigits
·       Twitter: https://twitter.com/@wearethedigits
About The Digits
The Digits (http://watchthedigits.com/ ) is a Portland-based live action narrative comedy that uses interactive gameplay to introduce and strengthen math concepts to children. By combining interactive gameplay into the narrative, the outcome of the game directly affects the outcome of the story, thereby turning viewers into players and players into learners. The Digits seeks to offer the best of both worlds as it delivers fun, engagement and excitement to children and an educational opportunity to parents. The Digits is a privately funded project of FUNDA (http://www.thefundaorganization.com/)
About PBS LearningMedia
As America's largest classroom, teachers of children from pre-K through 12th grade turn to PBS for digital content and services that help bring classroom lessons to life. PBS LearningMedia, a partnership of PBS and WGBH Educational Foundation, is a free media-on-demand service available to educators nationwide.  It brings together the best of public media and delivers research-based, classroom-ready rich media experiences that engage students in exploring curriculum concepts that align with National and Common Core State Standards. Drawing from critically acclaimed PBS programs such as NOVA, FRONTLINE, AMERICAN EXPERIENCE and PBS KIDS programs like SID THE SCIENCE KID, as well as content from organizations including The National Archives Smithsonian, NPR, and NASA, the free service offers teachers access to more than 30,000 videos, images and articles to enrich classroom instruction. Nationwide, more than 875,000 teachers have registered access to PBS LearningMedia. More information about PBS LearningMedia is available at www.pbslearningmedia.org, or by following PBS LearningMedia on Twitter and Facebook