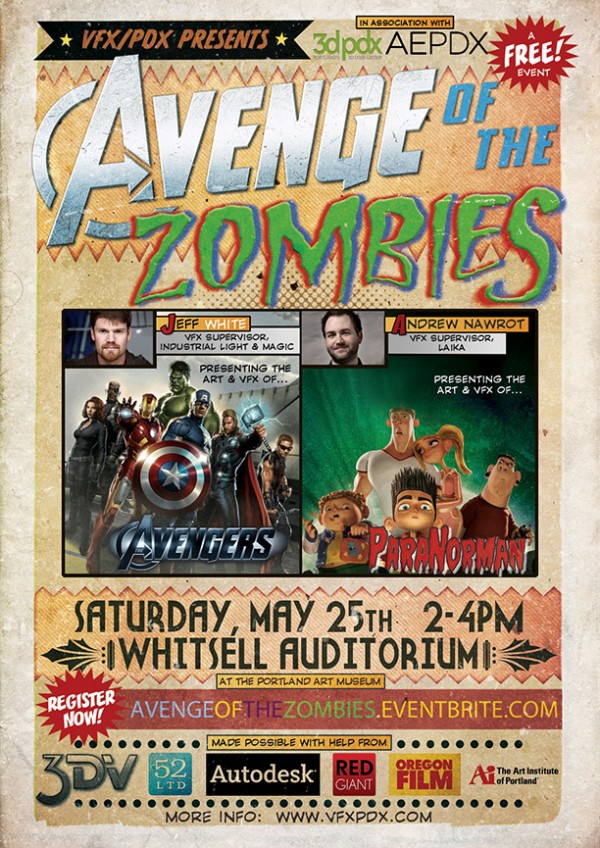 To all visual effects fans and film buffs – we've got a live one here!  Jeff White (Visual Effects Supervisor) will be coming up from ILM and showing off their Oscar nominated work on The Avengers.  These are behind the scenes that go deeper than you'll ever see on any DVD extras, and you'll see in depth how the VFX team swarms on raw footage and magically transforms it into the film you see on screen.
Batting leadoff is Andrew Nawrot, a Visual Effects Supervisor here for the home team LAIKA.  He'll be presenting their VFX work on ParaNorman.
This is a one time only event, and a sure-thing walk off homer for any fans of special effects laden films, stop motion, or digital art.  Join us for…
Avenge of the Zombies!
Saturday, May 25th
Doors at 1:30, Presentation 2pm-4pm
The NW Film Center's Whitsell Auditorium @ the Portland Art Museum
1219 SW Park Ave, Portland OR
Thanks to our sponsors, this event is free and open to the general public.  Reserve your seat now at:
http://avengeofthezombies.eventbrite.com
(please register and bring your ticket)
We'd like to thank 3DV, 52 Ltd, Autodesk, Red Giant Software, the Oregon Film Commission, The Art Institute of Portland, and the NW Film Center for making this possible.
Mark your calendars and we'll see you at the show!
More info at www.vfxpdx.com