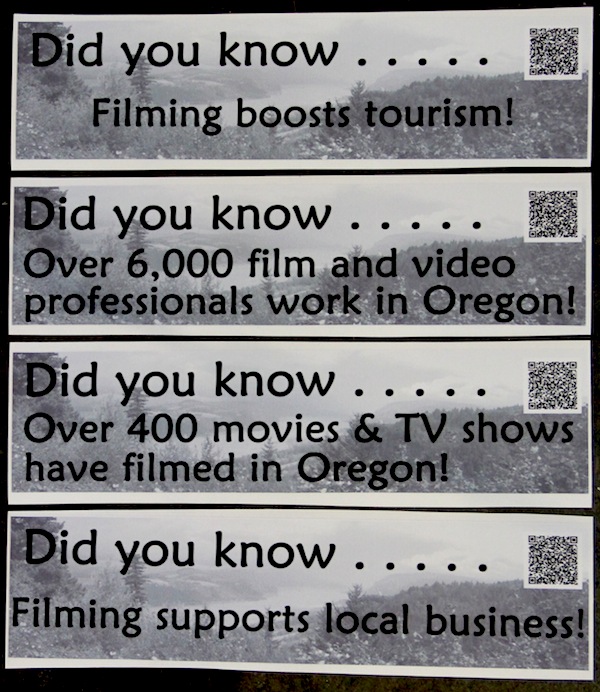 Did you see these bumpers stickers last week in Salem during "Industry Day"?
Did You Know. . . . .  is a new awareness campaign, created in partnership with the film community, that aims to illustrate facts that enlighten the public and the business community alike, to the extended benefits of having a thriving film, TV and multimedia industry in Oregon.
Did You Know . . . . . that even within the industry itself there is sometimes confusion over what our office does and what we are responsible for?  We want to kick off the campaign by starting there…….
Did You Know. . . . .  that our office, the Governor's Office of Film & Television:
is AKA locally as; the Oregon State Film office, the Governor's Office of Film & Television, GOFT, the Film Office
is a semi-independent state agency that is lottery funded and markets and serves the entire state of Oregon
promotes the rapid statewide development of the film, television and multimedia industry and enhances their revenues, profiles and reputation within Oregon and among the industry nationwide and internationally
has been helping productions find, secure, and utilize our magnificent statewide locations since 1968
markets Oregon nationally and internationally as a filming location to recruit out-of-state production
helps local communities attract projects, which in turn help market their respective areas
manages and implements three incentive programs (OPIF, Green Light, iOPIFs)
acts as a connection to press, crew, vendors, services, green shooting resources, lodging, recreation etc.
communicates news and information via social network platforms (Blog, Twitter, Facebook and two newsletters, monthly internal to Oregon – subscribe here;  and quarterly external –  subscribe here)
acts as liaison between the local community, state and federal agencies, (USFS, BLM, Coast Guard, BIA, FAA, Marine Fisheries, dept. of Forestry, ODOT etc.) and the production industry
advises other governmental entities that are creating filming regulations throughout the state
works closely with cities, communities and regional trade organizations throughout the state
maintains and builds partnerships with local communities
provides consumer protection information
serves as a spokesperson for the Oregon industry
Did You Know. . . . . 
Some industry workers, such as Sara Burton (GirlsScout Locations and On Par Production Services) will be embracing the campaign by adding their own "Did You Know" film facts to the top rung of the back of the company barricades.   On Par's, Burton says, "Nothing better than getting a positive message out in the neighborhoods where filming takes place".
Did You Know. . . . . we will have bumper stickers here in our office if you want to come and pick them up, share them around and be a part of the community helping to spread the word.