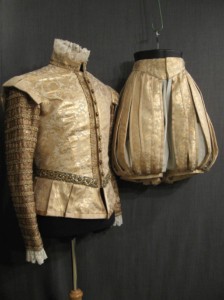 The Oregon Shakespeare Festival (Ashland, southern Oregon) is well known for it's high caliber theatre performances.  Lesser know is the Oregon Shakespeare Festival Costume Rentals.  OSFCR is a full-service costume rental facility that features around 100,000 costumer pieces designed and made in-house.  OSFCR has been renting costumes since 2004 but only started renting to the film and TV market for the past 6 years.  They have been successful, with many repeat customers, from primetime shows on NBC, ABC, HBO, TNT, as well as many feature films.  OSFCR houses a wide costume inventory in many styles and periods from Roman to Modern and they feature an extensive selection of Medieval and Renaissance costumes, as well as accessories from all eras including shoes and boots.   Emily Ehrlich Inget, OSFCR Costume Rental Manager, says,
We differ from other rental houses not only because of the quality construction of our costumes but also because of our exemplary customer service. All our staff has design backgrounds and having that experience enables us to give professional service with a personal touch, on time and on budget.  We genuinely care about our customers' productions looking as amazing as possible and delight in our ability to help realize those visions."
Here are some of the services OSFCR provides that have helped them become a go-to costume house with nationwide service: 
will accommodate any deadline including rush orders and will ship anywhere in the country
no minimum or maximum order size
offer weekly production and extended rental periods with competitive rates
For more information: www.osfcostumerentals.org
OSF Costume Rentals
255 Helman St. #4
Ashland, OR 97520
541-482-2111  x308

Like them on Facebook!