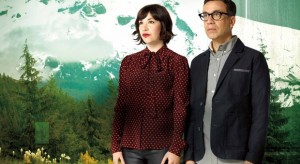 On Sunday at this year's WGA awards IFC's "Portlandia" won a WGA award for best Comedy/Variety Series.  By most accounts this was an upset for the show as the other nominees included six time winner "Saturday Night Live", "Conan", "The Daily Show", "The Colbert Report", "Jimmy Kimmel", and "Real Time with Bill Maher".  The show continues to grow both audience and acclaim.  The season 3 premiere of the show was up 30% from season 2 and the web companion to the show Kumail Tours Portlandia has been a nice surprise on IFC's website.
Yesterday Carrie Brownstein tweeted –
Totally surprised, very grateful. Love to Fred, Jon, @kareydornetto and @thatbilloakley #WGAAWARDS #Portlandia
and Bill Oakley, Co-Executive Producer on Season 3 tweeted –
Celebrating "Portlandia" WGA Award win by watching Downtown Abbey and drinking four cheap beers. (Portland style.)
Congratulations to Carrie, Fred, Jonathan Krisel, Karey Dornetto, Bill Oakley and everyone who works on the show for this award.