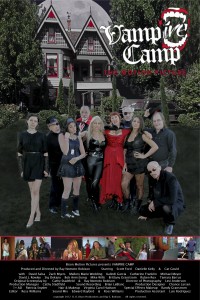 The indie comedy "Vampire Camp" was honored with the Best Feature award at the Vampire Film Festival in Los Angeles on Sunday, Feb. 10.
"Vampire Camp" was produced in the Rogue Valley with an all-Oregon cast and crew.  The film was directed by Ray Nomoto Robison of Medford and written by Robison and Cathy Stadtfeld of Central Point. The 78-minute comedy follows an unsuspecting vampire hunter who is preyed upon by a group of vampires.
The film stars Scott Ford, Danielle Kelly and Cat Gould, all of Ashland. Filming locations included Fir Street Studio in Medford, Darkwing Manor in Phoenix and the Greensprings area.
The film screened Saturday evening at the Little Casa Theatre in Los Angeles with Robison, Ford, Gould, director of photography Levi Anderson and actor David Rowley in attendance. The screening was the film's premiere.  The next scheduled screening is at the Killer Valley Horror Film Festival in Ashland.
The Vampire Film Festival returned to Los Angeles after spending the past three years in New Orleans.  According to the festival's director, Asif Ahmed, New Orleans was a great location for a vampire themed festival but the move was needed to bring the festival closer to where most of the staff and volunteers lived.
"Vampire Camp" is director Ray Nomoto Robison's first feature since "Sixes and the One Eyed King" in 2006.
More information can be found at www.vampirecampthemovie.com and https://www.facebook.com/vampirefest?fref=ts.